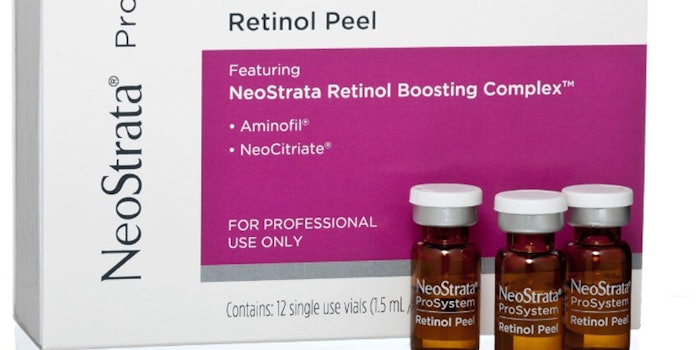 The Neostrata Company  has developed a retinol peel that will benefit consumers who are looking to diminish fine lines and wrinkles, reduce acne, and improve skin's laxity. NeoStrata Prosystem Retinol Peel is the first and only retinol peel that the brand has produced and contains 3% retinol and plus Retinol Boosting Complex.
Ingredients include:
NeoCitriate: Targets collagen for antiaging smoothing effects
Aminofil: An amino acid derivative that enhances collagen and hyaluronic acid to smooth lines and wrinkles
Bisabolol: A botanical derived from chamomile that helps calm skin
Vitamin E: Gives skin an antioxidant boost to protect from free radicals
This peel is designed to be applied in-office and then washed off at home after eight hours.