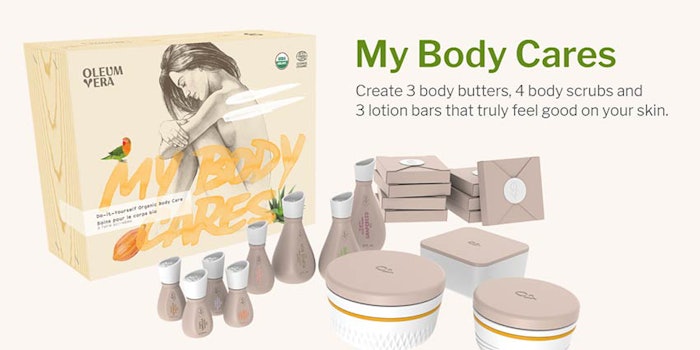 In the age of Blue Apron cook-it-yourself delivery kits, it was only a matter of time before similar beauty models emerged. Now, comes Oleum Vera, a "home-cooked" beauty brand that offers cleansing, moisturizing, body care, spa-style pampering, hair care and men's body care kits that allow consumers to whip-up their own products.
Each organic, non-GMO kit comprises plant-based oils and essential oils, powdered clays (when applicable), algae and dried flower petals, and comes with a how-to booklet. The brand has claimed that it "takes inspiration from bountiful nature to create products that empower consumers to reclaim their beauty regimen, using fresh ingredients from their pantry and fridge, natural clays, and organic butters and oils."
"What we really wanted, he continues, was to present a complete natural beauty routine, right from the get-go."
Oleum Vera added that it is "providing women and men with the ingredients and the knowledge they need to re-appropriate their body care routine and tailor it to meet their own unique skin and hair needs.."
The range, which touts its sustainability and customization, is currently available in France via OleumVera.com and BienManger.com.
"I believe many of us are now looking to get back to basics: a few carefully sourced, natural ingredients rather than a list of 20 unpronounceable ones," said founder and CEO Jonathan Coutu. "What we really wanted, he continues, was to present a complete natural beauty routine, right from the get-go."