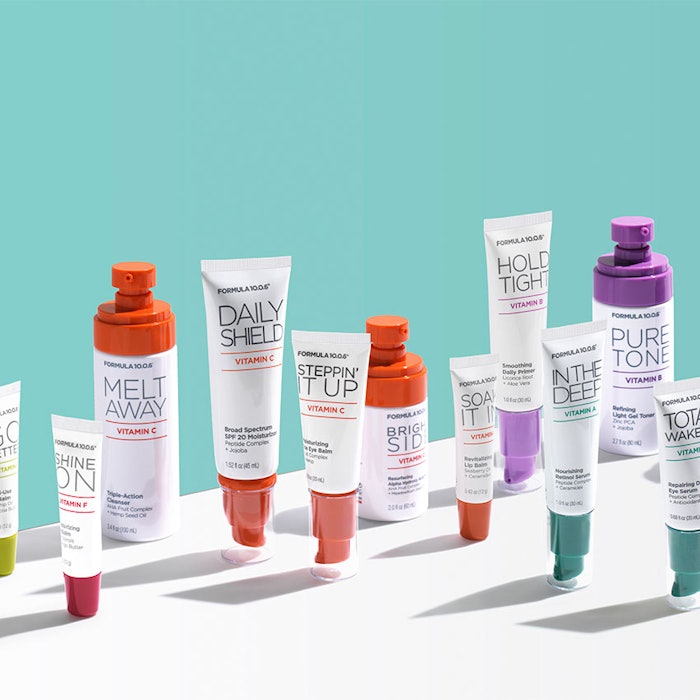 Formula 10.0.6 is launching an acne-fighting line, Skin So Clear Collection, and expanding its Well-Aging Vitamin Collection to offer three new vitamin E-boosted products for mature skin.
Previously: Inkey List's Succinic Acid Acne Treatment Launches at Sephora
Launching exclusively at Ulta, this complete set of acne-focused products is filled with salicylic acid to help relieve troublesome skin and prevent future breakouts.
Products in the collection:
Start So Fresh

(acne-fighting cleanser salicylic acid + cucumber)

: 

Daily acne-fighting cleanser with salicylic acid and cucumber. It h

elps unclog and minimize the size of pores and brightens and carries away dead skin cells.
Scrub So Clean

(acne-fighting super scrub salicylic acid + licorice)

: Deep pore scrub that eliminates blackheads, clogged pores, and exfoliates dead skin cells.
Feel So Soft (o

il-free moisturizer salicylic acid + chamomile)

: Light exfoliation while maintaining moisture. It brightens and is non-greasy, non-clogging, and lightweight with skin- calming chamomile.
Renew So Smooth (o

il-controlling clay mask salicylic acid + oatmeal)

: Oil control that removes dead skin cells, minimizes the look of pores, brightening and soothing benefits.
Treat So Deep (a

cne-fighting treatment salicylic acid + bisabolol): R

educes the formation of acne. It soothes and helps to alleviate irritation and dry patches while treating blemishes.
Fade So Fast (post blemish spot fader salicylic acid + niacinamide): 

Helps fade post blemish marks, brighten dark spots, and soothe as it heals.
The vitamin range expansion features three new vitamin E-boosted products that feel deeply nourishing, calming, and encourage well-aging. 
Products in the collection include:
Glow Power 

(exfoliating dry powder scrub): 

This water-activated powder scrub provides gentle yet effective exfoliation. A very versatile on-the-go formula with the added well-aging benefits of vitamin E, jojoba esters, kaolin, apricot seed powder, and colloidal oatmeal delivers a deep invigorating clean with glowing results.
Mega Serum 

(restoring face serum): 

This gentle every day, creamy face serum provides skin-restoring properties with the power of vitamin E, bakuchiol, niacinamide, and hyaluronic acid. It helps soften the appearance of fine lines, boosts moisture level, brightens skin complexion, and visibly improves skin tone and texture.
Core Restore 

(deeply replenishing face + neck cream): 

This ultra-rich face and neck cream has the well-aging antioxidant benefits of vitamin E to help fight against environmental stressors. Paired with the skin-replenishing power of hyaluronic acid, skin-soothing borage seed, and a blend of mango butter, shea butter, and jojoba oil for additional moisturization.