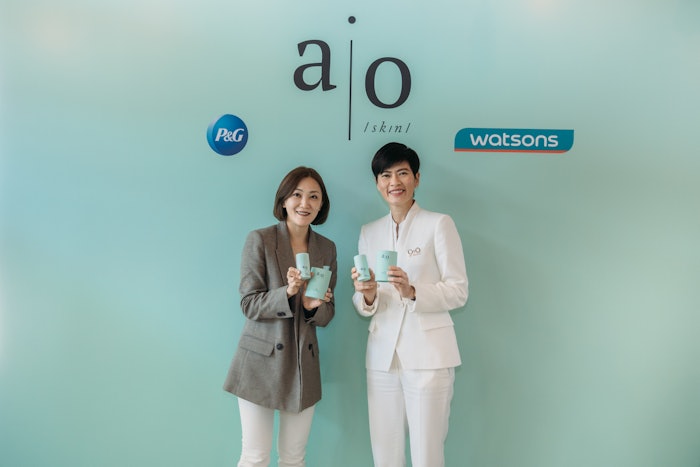 Procter & Gamble and A.S. Watson Group have announced the launch of a co-created Japanese-inspired skin care brand, aio, which will be available in Watsons stores in the Greater China markets.
The brand's first product, Super Essence, features the brand's Oxyniacine formula, Tropaeolum majus (garden nasturtium) for boosting skin vibrancy, B3 niacinamide for reinforcing skin barrier, and vitamin E that has nourishing benefits to improve oil-water balance and keep skin healthy.
The matcha-colored jelly-like texture offers a relaxing smell of Kyoto woods, per the companies. The light non-greasy texture is suitable for sensitive skin, as tested by dermatologists. 
Previously: P&G's New CEO
Markus Strobel, global president, P&G skin and personal care, said: "This is a P&G beauty first breakthrough collaboration with a retail partner to co-create a new skin care brand from scratch. We are delighted to team up with A.S. Watson to learn together and co-design the aio proposition  for the derm and wellness needs of the customers. This is the future of retailing and skin care. aio aimed to attract Gen Z and millennials and have a larger proportion of sales from online channels. We are very excited to bring this brand now to Hong Kong and Taiwan Market. aio is designed with first-ever fully recyclable packaging which is very meaningful for P&G's responsible beauty and sustainability goals." 
Malina Ngai, CEO of A.S. Watson (Asia and Europe) and group chief operating officer, said: "Starting from figuring out the customers' needs, to product design and brand building, aio is the result of close collaboration between A.S. Watson Group and P&G. Our seamless O+O (offline plus online) platforms and sophisticated customer insights will help aio to open new markets. Sustainability is our top priority and we are happy to see aio's packaging is fully recyclable, making it eligible to be listed as Clean Beauty product under Watsons Sustainable Choices. With its philosophy of 'simple sophisticated', I truly believe aio will be loved by customers with its unique proposition, refreshing design and great product performance."