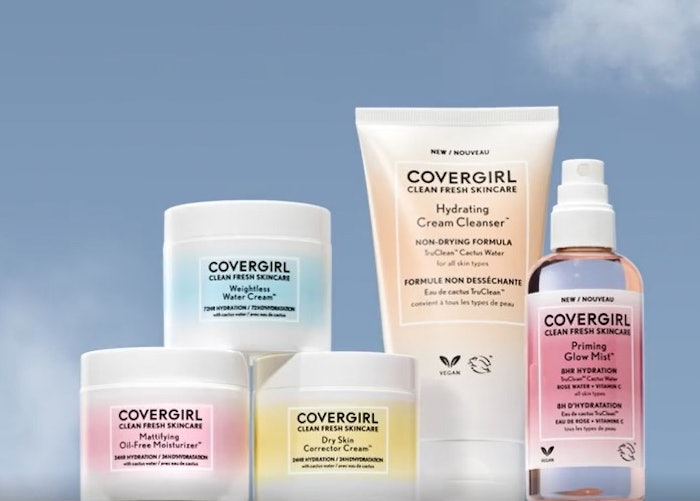 Covergirl ambassador, America Ferrera, has debuted in the brand's campaign for its new Clean Fresh Skincare collection.
The recently launched skin care collection marks the latest step toward the brand's vision of creating a better kind of beauty, which is cleaner, cruelty-free, vegan and more sustainable.
The campaign was created by Coty's in-house creative team, led by Sam Southey, global head of brand equity and creative lead; and it was directed by Latina director and photographer Paola Kudacki.
Ferrera said, "Growing up, I really didn't see myself represented in the media and across traditional beauty standards. To be named a Covergirl is something I never expected, but I'm thrilled to be able to represent my community and show that you can be an actor, a director, a businesswoman, a mom, a Latina, a first-generation American and be a Covergirl. The Clean Fresh Skincare collection embodies some of my favorite elements of my beauty routine, including clean ingredients, easy-to-use products and a collection that can be found at an affordable price."
Stefano Curti, chief brands officer, consumer beauty, at Coty, home to the Covergirl brand, said, "When we announced our partnership with America Ferrera in the fall, we knew she would perfectly personify the Clean Fresh Skincare collection. America encourages everyone to embrace their authenticity and forge their own individual paths, which is why she was the perfect ambassador for Covergirl's newest accessible and inclusive innovation--Clean Fresh Skincare. It's a clean, vegan skincare line that brings ingredient-conscious products to everyone and proves that clean beauty doesn't have to come with prestige prices for an audience of consumers who may not have previously been able to diversify their beauty routine in this way."
Southey said, "The campaign uses the power of America's story to make a point about Covergirl's purpose in the world today and the brand's beliefs around beauty. Sharing the twists and turns of her personal journey and her relationship with beauty is a true source of strength to so many. If we can make one more little girl or boy out there, no matter who they are or where they come from, feel like a Covergirl, then we have served our brand purpose well."
Kudacki said, "When I stepped on to set, I felt an immediate bond and connection with America. Directing this campaign was truly so much fun, her authenticity and professionalism made the shoot run so smooth. It was an unforgettable experience. Both, America and I truly believe in bringing more LatinX voices to the forefront of the beauty industry. We're excited to share this campaign with the world and for our community to see themselves represented in the media, and hopefully get inspire to follow their dreams and to feel proud in their own skin."