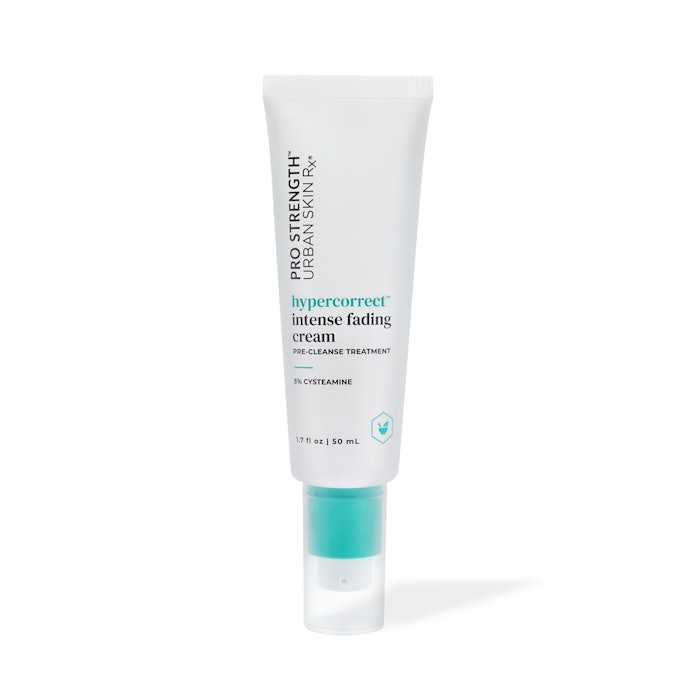 Urban Skin Rx has rolled out the HyperCorrect Intense Fading Cream, a pre-cleanse treatment formulated to reduce the appearance of hyperpigmentation while minimizing the signs of premature aging.
Free of hydroquinone, the HyperCorrect Intense Fading Cream is a daily wash-off fading solution that features 5% cysteamine. Urban Skin Rx says it is the first brand to bring this skin-lightening agent direct to the consumer.
Cysteamine is an antioxidant that has shown significant efficacy in treating hyperpigmentation, including dark spots, melasma, acne scars, age spots and sun damage, according to the company. It is designed to not only fade these types of discoloration, but also prevent the formation of dark spots by inhibiting melanin synthesis.
Another key ingredient in the HyperCorrect Intense Fading Cream is 1% niacinamide. This form of vitamin B3 is meant to reduce the appearance of fine lines and wrinkles, hyperpigmentation, texture and redness caused by acne, sun damage, and other skin irritants.
The formulation also includes vitamin E to boost the skin's defenses against free radical damage, promote moisture retention and smooth dehydrated skin.
Urban Skin Rx offers the following guidance on how to use the HyperCorrect Intense Fading Cream:
Because the cream is a pre-cleanse product, the user should not apply the product within one hour of washing his or her face.
People with sensitive skin should dilute the cream with a moisturizer and start with five-minute applications.
Users who have vitiligo or a family history of vitiligo should not use the cream.
Do not use the cream at the same time or in the same skin care regimen as benzoyl peroxide, retinol/vitamin A or high levels of AHAs/BHAs.
The cream is not suitable for pregnant or breastfeeding women. 
The HyperCorrect Intense Fading Cream is available at urbanskinrx.com. It retails for $48 per 1.7 fl oz. 
Ingredients: Water, Cysteamine Hydrochloride, Caprylic/Capric Triglyceride, Polyacrylate 13, Cetearyl Phosphate, Squalane, Polyisobutene, Niacinamide, Phenoxyethanol, Polysorbate 20, Sodium Hydroxide, Sorbitan Isostearate, Disodium EDTA, Ethylhexylglycerin, Tocopheryl Acetate, Isosqualane, Sodium PCA, C30 Hydrocarbons