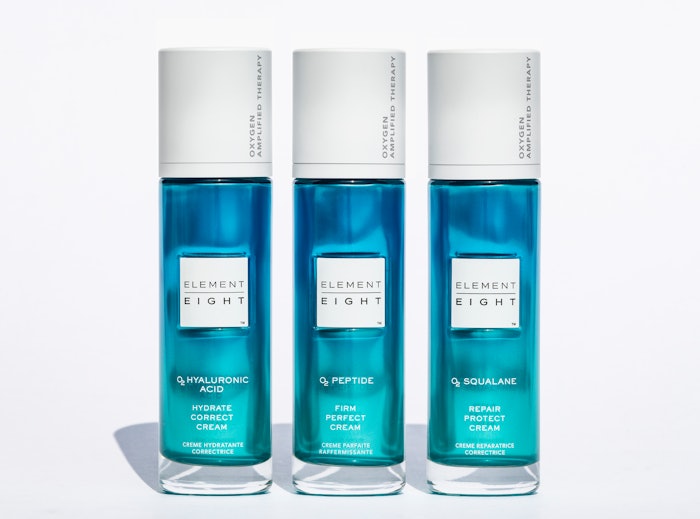 Element Eight is the latest entrant into the clinical skin care space, debuting a luxury skin care line powered by its proprietary oxygen delivery system.
Developed by scientists and surgeons that study oxygen tissue repair, Element Eight's products feature the company's Oxygen Amplified Therapy (OATH), which is designed to retain and release concentrated oxygen into the skin.
As skin ages, the skin cells lose oxygen, a leading cause of fine lines, wrinkles and discoloration.
To combat that natural loss of oxygen, Element Eight created OATH, a blend of oxygen-saturated ingredients that penetrates and replenishes the skin at the cellular level.
Applied topically, this surgical-grade technology encapsulates and delivers concentrated oxygen to the skin cells while enhancing the efficacy of the active ingredients, delaying and reversing the signs of aging, according to Element Eight.
Element Eight's skin care line consists of three face creams that each retail for $250 per 50 ml:
The O2 Peptide Firm Perfect Cream features four curated peptides to restore elasticity and suppleness to the skin; vitamin C to protect the skin against free radical damage; tranexamic acid to brighten the skin and diminish the appearance of pigmentation; and Camelia oleifera to rejuvenate the skin with its antioxidant properties.
The O2 Squalane Repair Protect Cream is formulated with squalane to enhance the skin's lipids; high- and low-molecular-weight sodium hyaluronate to penetrate the skin barrier for enhanced hydration; allantoin to help the skin absorb more water for a calm and hydrated complexion; and bisabolol to limit the release of pro-inflammatory mediators.
The O2 Hyaluronic Acid Hydrate Correct Cream incorporates vitamin D5 to help correct redness and irritation; shea butter to boost moisture retention, collagen production and cell regeneration; and aloe vera to moisturize the skin and soothe and calm inflammation.
The company spent 10 years developing OATH based on medical technology that doctors use to deliver oxygen to bone tissue during spine surgery, which accelerates healing time tenfold.
Andy Carter, Ph.D.,  chief technology officer, said, "After developing oxygen therapy to speed the healing of bone grafts in spine surgery, based on our results, we determined that our OATH compound would also be effective as a topical application to increase oxygen in the dermal layers, and that's how Element Eight was born."
"I am super excited to see the culmination of many years of research into oxygen-empowered tissue science being launched on the global stage in the beautiful Element Eight portfolio," said Brad Patt, Ph.D.,  chairman of the board.
Industry vet Gerard Camme, president and CEO of Element Eight and former president of Atelier Cologne, said, "What excites me about the prospect of bringing Element Eight to market is the fact that we enter an overcrowded space with a unique voice and a distinct point of difference."