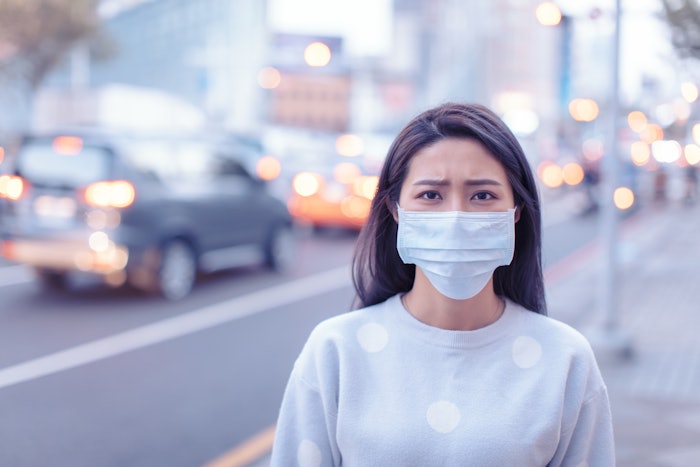 A greater focus on developing pollution-fighting skin care has spurred new product innovation in recent years. Now, Haut.AI has tapped BreezoMeter's environmental data to enhance its skin care recommendation engine, allowing users to better understand how their skin responds to the environment and which products are best suited to address those issues.
Haut.AI and BreezoMeter's datasets were combined into analytical models using AI and machine learning to identify patterns of environmental influence on different skin types, depending on the person's location.
The analysis yielded three groups of environmental-related skin behaviors, which were integrated into the Haut.AI product matching technology.
"BreezoMeter's cutting-edge AI platform detects and records environmental changes related to particle matter, pollen concentration, UV index and temperature," says Anastasia Georgievskaya, Haut.AI CEO. "All of these factors play a significant role in our skin's health and directly influence inflammation, sun damage, and aging."
She adds, "By accessing these findings, we will unlock greater insights into the relationship between our environment and skin health. Haut.AI's software [uses] individual skin parameters and combinations of facial feature signatures to identify patterns of sun damage, allergy and environmental pollution. We are developing AI-based biomarkers for environmental damage to empower users to pursue interventions to revert or even prevent these changes."
The executive notes that the new capabilities will address key skin care concerns.
"The future of AI-powered skincare is personalized recommendations based on internal factors, like age and stress, and external factors, like the environment," says Georgievskaya. "BreezoMeter's unique AI platform analyses environmental changes related to pollution, pollen and sun intensity that impact our skin's inflammation and the aging process. By incorporating their data points into Haut.AI's skin analysis, we will be able to build upon our existing parameters for hyperpigmentation, acne and wrinkles and establish new biomarkers to help treat and prevent environmental damage." 
She concludes, ""Environmental changes like sun intensity, pollen, temperature and pollution have serious consequences for our skin. BreezoMeter's AI tools monitor these changes to offer more insights into the relationship between the outside world and our skin. Using their data, we will be able to identify and address environment-related skin changes, including inflammation, aging and irritation. We're excited to build upon our suite of biomarkers and use our AI tools to identify interventions for reducing and ultimately preventing environmental damage to our skin." 
Haut.AI has grown the number of partnerships with skin care brands by 200% over the last year and forged a product recommendation partnership with Ulta Beauty.