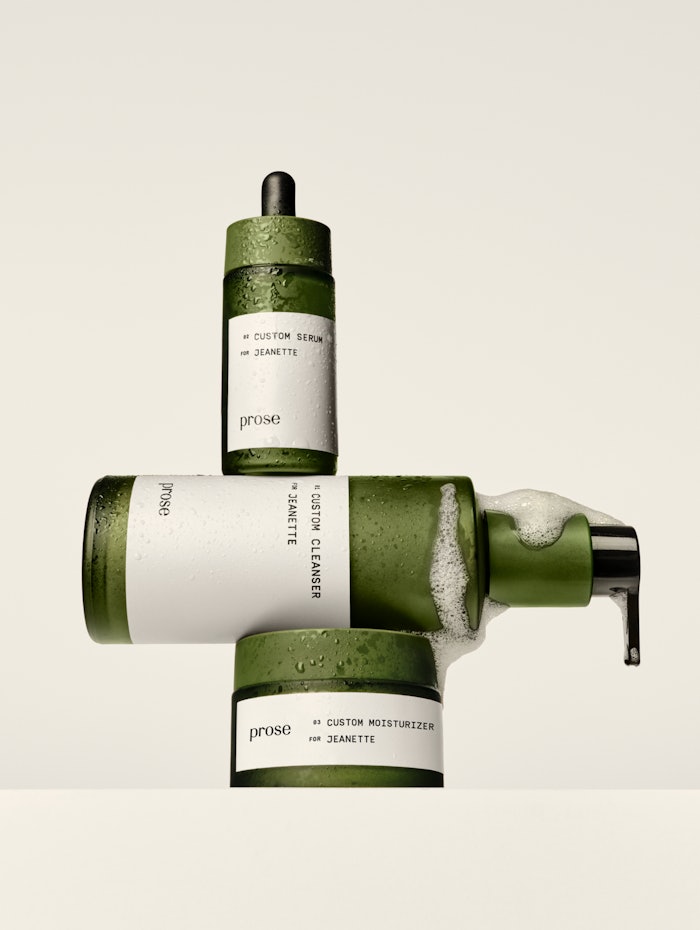 Prose, a brand that offers personalized hair care, has expanded into skin care with the launch of three products.
The skin care system offers personalized formulas, is backed by science and powered by AI. It is dermatologist-tested, dermatologist-approved and clinically tested to show results in four weeks.
Through a user-led online consultation, custom insights are pulled from more than 80 key factors such as skin type, diet, stress, pollution and climate and work to properly address all aggressors.
Prose's in-house R&D team works with a proprietary algorithm to identify the right blend of active ingredients to formulate a three-step skin care system that evolves with the customer.
Products include:
Custom Cleanser: Offers gentle yet effective cleansing for oily, dry and sensitive skin. It is non-drying, non-stripping and formulated to support a healthy skin barrier, this cleanser is available in gel or cream consistency.
Custom Serum: Moisturizes and softens skin with a smoothing effect. This product consists of a range of active ingredients such as allantoin for cell renewal and hyaluronic acid for hydration.
Custom Moisturizer: Moisturizes the skin, improves cell renewal and protects the skin from blue light. The formula comes in three different textures based on preference: light gel to a rich cream. 
Marie Mignon, chief scientific officer, said, "Our R&D team has been working closely with dermatologists, rigorously testing on 2,000+ unique skin types and tones. Each product features a blend of meticulously selected ingredients to strengthen the skin barrier, balance pH, and maintain a healthy skin microbiome, offering maximum potency and zero waste. We have been developing this skin care system for over two years now and are so excited to introduce it to the Prose community as the next step in their personalized wellness routines."
 Arnaud Plas, CEO and co-founder, said, "Prose's number one priority is ensuring we deliver on our products' promises and on our customers' expectations. Innovation is at the heart of our business, and as a company, we never stop ideating on how we can better serve our customers. After such incredible success with hair care, skin care was the next natural step for Prose to continue as a leader in customized beauty. We have worked to marry a technology driven approach with an apothecary-style concept and our new skin care system follows that same philosophy."