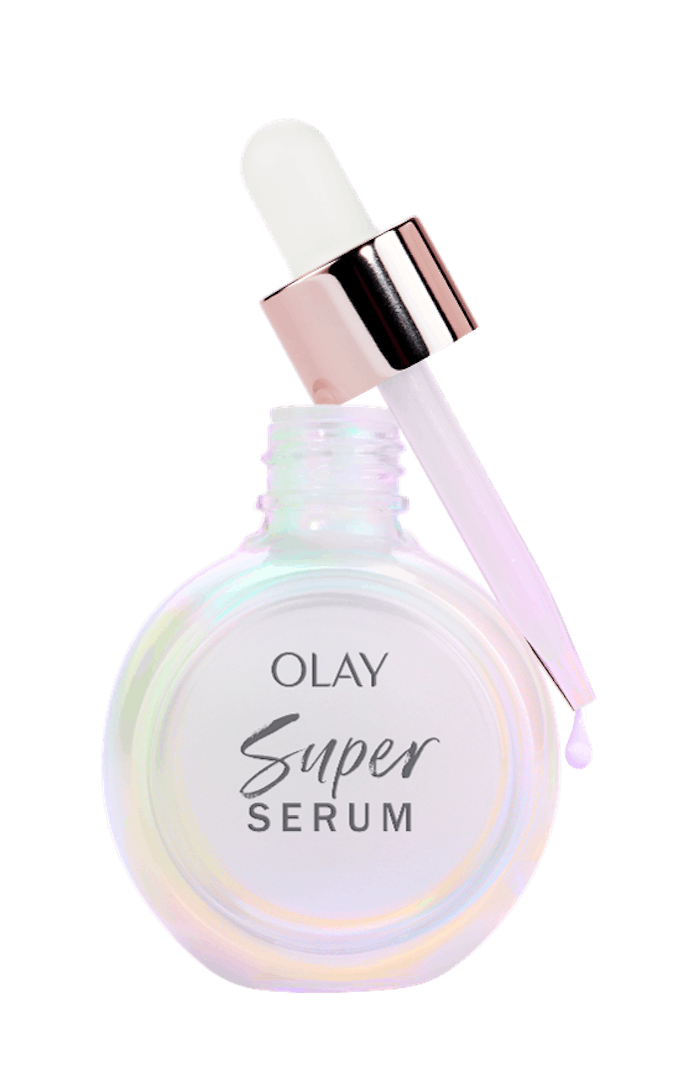 Olay's new Super Serum ($34.99) was inspired by the development of a low-pH activated niacinamide (vitamin B3) that reportedly boosts skin tone efficacy and improves skin texture, with results visible within two weeks, per the brand.
In addition to improving skin tone and texture, the Super Serum firms the skin, smooths the appearance of visible lines and provides long-lasting hydration.
The niacinamide was accidentally discovered in 2017, when Olay researchers found that an active ingredient was breaking down into "a more effective, low-pH activated niacinamide."
In applications, the niacinamide can boost surface cell turnover, thereby evening skin tone and improving discoloration.
The formulation also features vitamin C, which fights free radicals on the skin surface and protects skin from visible damage such as fine lines and uneven skin tone, as well as a collagen peptide, soothing and moisturizing vitamin E, and humectant and exfoliating AHA lactic acid.
The iridescent purple serum transforms and becomes clear upon application to indicate that the product has fully absorbed into the skin, as seen in this Instagram post.
According to Olay, 3-D Visia imaging technology on 200 test subjects over two months revealed a new "chaosity" measurement, which quantifies how chaotic skin is. clinical trial results reportedly showed that the Super Serum reduced skin chaos, namely micro inflammation.
"For years we've known how effective niacinamide is at achieving hydrated, even skin," said Rolanda Wilkerson, Ph.D., principal scientist, Olay North America. "But at Olay we're tirelessly looking to discover the next breakthrough in skin care actives. Our groundbreaking discovery of low-pH niacinamide and its subsequent use in the new Olay Super Serum formula offers users all of the benefits of niacinamide, with improved results in less time."