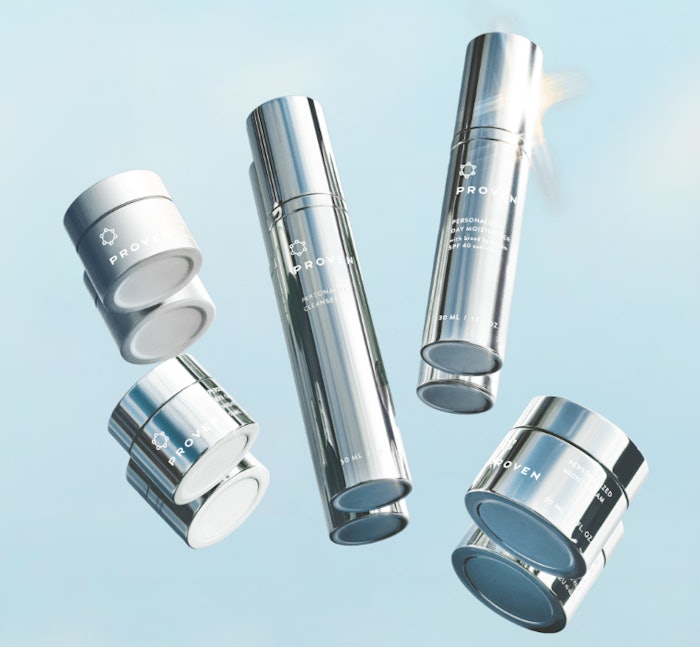 Proven homepage
Proven, which launched in Sephora online in January, is expanding its skin care personalization technology and products to 10 Sephora brick-and-mortar locations in the United States.
Just as Function of Beauty's new bond-building launch delivered personalization to hair care for Sephora, Proven will do the same for personalized skin care at the retailer. 
For the brick-and-mortar expansion, Proven has designed a skin care personalization experience featuring interactive video displays where customers scan a QR code to take Proven's 3-minute Skin Genome Quiz.
Proven's algorithm uses the responses to select the ideal ingredients for each individual and formulate personalized skin care that is shipped directly to shoppers' homes.
Customers can check out on their phones. Sephora beauty advisers will be on hand to answer shoppers' questions.
Proven can adjust customers' formulations every eight weeks to account for changing seasons, the skins' tolerance to active ingredients, geographical moves, aging and pregnancy, among other factors. 
The locations included under the current deal are:  Americana, Glendale, California; The Grove, Los Angeles; Valley Fair, Santa Clara, California; Pembroke Pines, Florida; Lakeside, Metairie, Louisiana; Somerset, Troy, Michigan; Garden State, Paramus, New Jersey; Soho, New York; North Park, Dallas; and Tysons Corner, Virginia.
According to Proven, "nearly 80% of those who purchased Proven through the Sephora digital experience have become subscribers."
Proven participated in the 2018 cohort of Sephora Accelerate and reportedly began planning this partnership in August 2021.
"Proven has designed a brick-and-mortar skin care personalization experience in Sephora stores that does not compromise on formula, quality, or delivery," said Proven co-founder and CEO Ming S. Zhao. "This has not been easy, but working alongside the amazing team at Sephora, we have built something unique that will allow even more consumers to build a long-term relationship with our brand. I've always said that personalization is the future of skincare, and this partnership extension coupled with the overwhelmingly positive reception to our digital launch proves that to be true. All of us at Proven continue to be proud to be partnering with Sephora and to provide an entirely new customer base with skincare solutions as unique as they are."
"We are thrilled to expand our partnership with Proven and continue bringing our clients effective, personalized skin care solutions in this exciting format," said Brooke Banwart, SVP skin care merchandising at Sephora. "With its new presence in select Sephora stores, Proven's cutting-edge system will now be available for more clients to explore, as we support their journey to finding bespoke products that fit their unique skin care needs and goals."