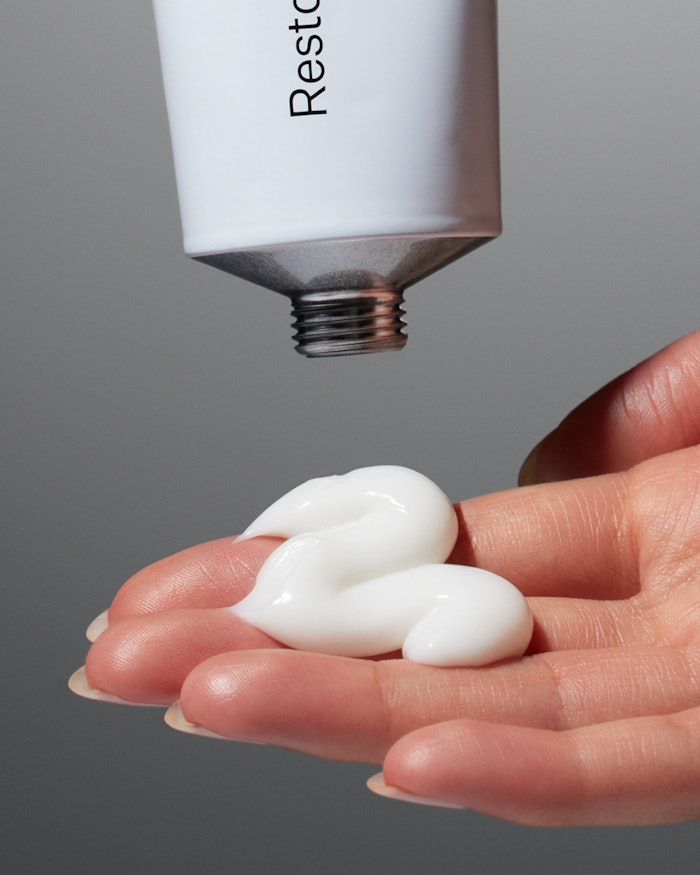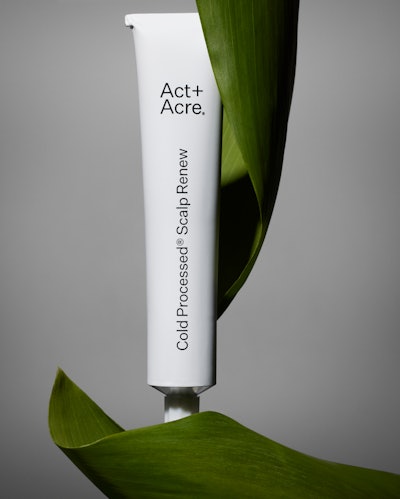 Scalp specialist Act+Acre is launching in 235 U.S. Sephora stores and online. The brand now expects retail revenue to jump 250% from 2022 to 2023.
The launch aligns with Circana data showing that prestige hair care has been boosted by demand for hair health solutions, including targeted treatments, heat protectants, leave-in treatments, scalp care and hair thinning solutions. In fact, Sephora's own shoppers are increasingly focused on scalp care products that address hair growth and dandruff.
Act+Acre is reportedly the first trichologist-created scalp care brand to land in the retailer. Trichology, for the uninitiated, refers to specialization in diseases and disorders of the scalp and hair.
"We are thrilled to introduce Act+Acre to our clients as we continue to grow this important, emerging category of hair wellness," said Jennifer Lucchese, VP of hair care merchandising at Sephora. "Founded by renowned hairstylist and certified trichologist Helen Reavey, Act+Acre offers innovative solutions that influence hair and scalp health with effective, clean, and impactful formulations. We look forward to welcoming this brand into our Sephora community and know that their products will be an exciting addition to our assortment."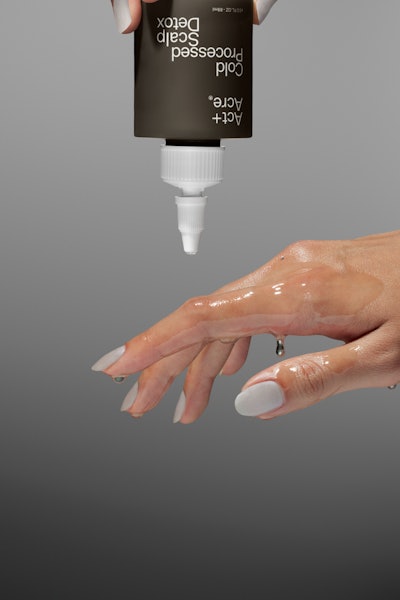 "When we started out no one was talking about scalp care", said Reavey. "We launched Act+Acre not to create a brand but to create a category that focused on the root of hair and scalp issues, rather than a quick fix. Launching in Sephora means we're one step closer to sharing the importance of scalp health with the world through our clean, science-backed solutions."
"The past four years have been unbelievable," said Act+Acre co-founder and CEO, Colm Mackin. "Our brand, our team, and our proven results have all led us to this very exciting chapter–launching nationwide with Sephora. Our partnership is a testament to Sephora's forward-thinking vision and their recognition of the transformative power of scalp care. We have always been committed to redefining industry standards and pushing into new opportunities with a unique approach. Our focus on scalp care has taken what was once an afterthought and turned it into a widely recognized and highly sought-after category. With our partners at Sephora, we're thrilled to continue bringing innovation to the scalp care industry. We are immensely grateful for the opportunity to offer our expert-led scalp solutions to the vibrant and passionate Sephora community."
The online Sephora rollout today, August 15, 2023, features 16 products, followed by the in-store launch on August 18, featuring six products. The brand will be debuting a Sephora exclusive collection in October for the holiday season. 
The in-store SKUs include the Cold Processed Hair Cleanse Shampoo, Restorative Deep Conditioning Hair Mask, Vitamin E Scalp Detox Oil, BHA Salicylic Acid Scalp Renew Exfoliator, 2% Stem Cell H2-Grow Complex Scalp Serum and Fulvic Acid Volumizing Dry Shampoo.
The 16 SKUs online at Sephora.com, inclusive of the above in-store SKUs, include the Cold Processed Hair Conditioner (1% Vitamin B-5), Thick + Full Hair Capsules, Microfiber Hair Towel, Scalp Gua Sha Tool, Scalp Relief System for Dandruff + Psoriasis + Eczema, 0.25mm Scalp Dermaroller, 5% Argan Repair Hair Oil, 2% Squalene Anti-Frizz Leave-In Conditioner, Mini Cold Processed Hair Cleanse Shampoo and Mini Cold Processed Hair Conditioner (1% Vitamin B-5).
Global Cosmetic Industry reached out to Act+Acre to learn more about the brand and the broader hair/scalp health boom.
Why do you think hair health has boomed so much in the last couple of years?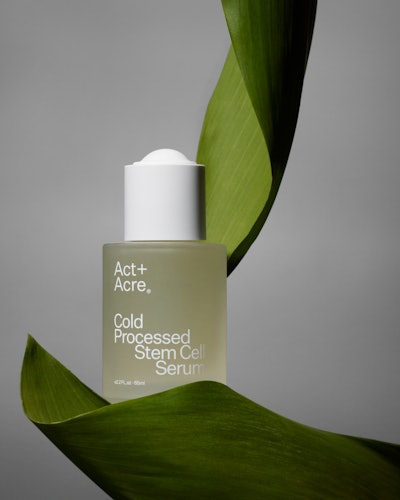 Reavey: Education has played a pivotal role in the recent boom of hair and scalp health. Just as skin care education took off– making skin cycling and slugging common consumer terms–we've started to see consumers becoming knowledgeable in their scalp types and their specific scalp concerns (i.e., dandruff, oily roots, etc.). Previously, there was so little education on the topic, so people were not able to identify what issues they had, and often turned to these "one-stop shop" solutions when they needed targeted routines and regimens. It's been extremely exciting to see how scalp and hair care education has prompted continued growth of the category, and we can't wait to see how the industry continues to grow moving forward.
What do you credit for Act+Acre's brand growth and now expansion into Sephora?
Mackin: There are so many factors and moments that have brought us to this point, but ultimately our incredible community and their trust in our products has been pivotal to our success. From sharing their transformative before and afters, to continuously selling out of our hero product Stem Cell Scalp Serum; to engaging with our content and everything in between– our community's involvement in our growth has played a crucial role in our upcoming expansion.
We also wouldn't be here without our team. At Act+Acre, we have always been committed to redefining industry standards and pushing into new opportunities with a unique approach. Our team has continued to stay focused on our goal to take what was once an afterthought (scalp care) and turn it into a widely recognized and highly sought-after category, and this partnership with Sephora is a testament to their hard work.
What are key marketing strategies that perform best for Act+Acre?
Mackin: We are constantly testing emerging channels while growing existing marketing channels. Recently, we have invested in our influencer team by spending more team resources on building relationships. We work mostly with influencers who have existing transformation stories with the brand. One of our first brand partners, Melissa Wood Health, came to the brand after experiencing postpartum hair loss and using our scalp treatments for healthy hair growth. The ability to connect authentically with influencers and community members who are struggling with scalp concerns and solve them with Act+Acre solutions has always earned the best results.
Global Cosmetic Industry also spoke with Lucchese to get a better sense of how Sephora views the hair health category.
How does the hair category's growth rate compare to other beauty sectors? What accounts for its strength?
Lucchese: Hair has been on a strong upward trajectory in recent years – it's a newer category than others in the prestige beauty sector and at Sephora, thus creating a huge opportunity for growth. We've seen the hair category advance so much in terms of newness and product innovation, and have especially noticed a resurgence in hair treatments, styling, and hair wellness overall post-pandemic. Haircare continues to be an area of focus for us at Sephora as our clients seek new and differentiated products for all hair types and textures, and there is a major opportunity for growth and change as needs and trends continue to evolve.
In general, how has the hair health/wellness boom impacted the types of brands and products Sephora offers its shoppers?
Lucchese: The hair category is shifting as clients seek to personalize their routines with products that go beyond shampoos and conditioners, and it's our job to deliver an evolving assortment of products that meet these needs. We're seeing clients build out their hair routines with specialized products for pre-, mid-, and post-shower to achieve the best possible results. While they are certainly drawn to newness in the hair category – whether that's from new brands or new products from existing brands they love – scalp health or the 'skinification' of hair is becoming increasingly important, and we are continuously broadening our range of offerings at Sephora to prioritize scalp care as the foundation for achieving healthy hair.
Are there any specific hair/scalp concerns shoppers are gravitating to recently?
Lucchese: Hair wellness is a growing interest for shoppers, and we've seen our clients gravitate towards brands and products that offer solutions to specific concerns like hair thinning, loss of volume, dandruff, scalp itchiness and dryness. We're continuing to take a thoughtful and intentional approach to the category, including selecting partners that not only deliver on product, but that also have the science and technology to back it up.
In this context, what makes Act+Acre a strong fit for Sephora?
Lucchese: Act+Acre is an innovative, clean brand that has authority in the hair wellness space. The brand's founder, Helen Reavey, is a trusted celebrity stylist and trichologist, which lends credibility to the brand and has led to a strong following. At Sephora, we're committed to bringing our clients the very best in product differentiation and innovation, and Act+Acre's cold-processed formulas are a prime example of product that's both unique and effective.