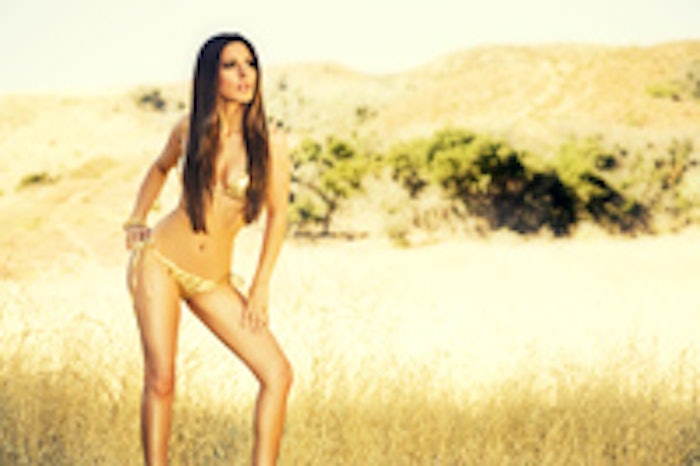 While vacationing in the French Riviera in the 1920s, Coco Chanel accidentally got sunburned. And because women all over the world were devoted to Chanel's style and opinion, many of them began copying the tanned look that developed from her overexposure to the sun. Thus, tanned skin became a contemporary symbol of beauty and health—and it still is today.
Now heading into resort season—hopefully jetting off to warmer climates to beat the wintry chill—it's important to find a healthy and beautiful glow without the overexposure to the sun. One product that delivers a safe and effective sunless tan is this month's Breakout Brand—Colour Couture.
Colour Couture, founded by celebrity tanning artist Monica Blanco, features some of the safest and most natural sunless tanning products on the market. Known for her flawless airbrush tanning, Blanco has developed a cult following in Hollywood, and her new line of retail products bring her expertise to her customers at home.
The following trio of products gives an honest, natural tan without an unpleasant odor or harsh chemicals.
Starlet Scrub removes dead skin cells and is used when preparing for a sunless tan—or for simply maintaining fresh, healthy skin. Infused with plum extract, a natural exfoliant, and made with a low amount of water, Starlet Scrub is extra thick and luxurious.
Front Row Glow is a foam tanning soufflé that dries quickly and gives a rich, magnificent color.
Shimmer in the Limelight, applied alone or with Front Row Glow and containing vitamin E and shea butter, is a lotion that moisturizes and maintains the skin while reducing the look of stretch marks and wrinkles.
Blanco is a Hollywood's "it" girl for sunless tanning. Specializing in shading to define a client's natural assets and hide unwanted fat and cellulite, her Colour Couture team is one of the most sought after airbrush tanners in Southern California. And a mother-turned-entrepreneur, Blanco prides herself on giving her team the opportunity to make money doing something they love.
So, this resort season, give yourself and your loved ones something they'll love when you purchase the Colour Couture Trio. Available online at
colour-couture.com
. Safe travels and happy tanning!