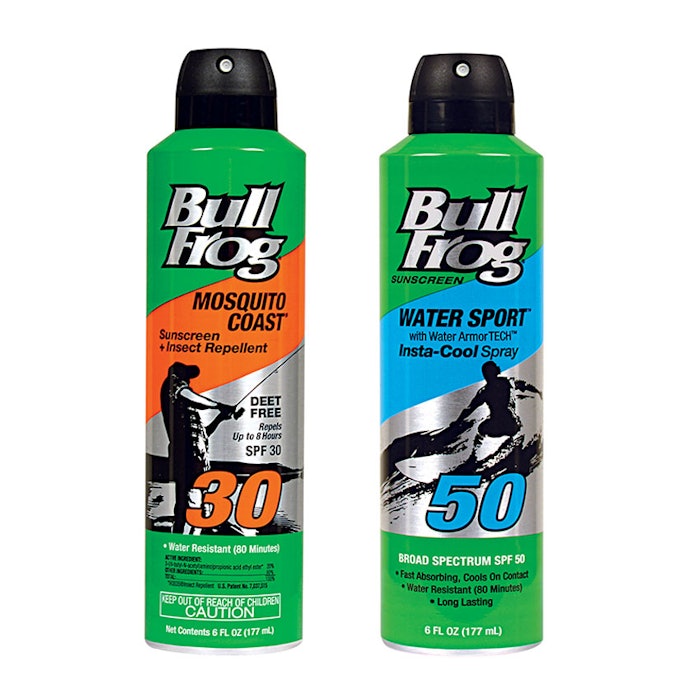 In efforts to raise awareness about men's need to protect themselves from harmful UV rays and the use of sunscreen, BullFrog Sunscreen created the first "Ultimate Performance Team" in conjunction with their various sport sunscreens available.
The team is composed of four outdoor athletes: freestyle kayaker Nick Troutman, Major League Fishing bass fisherman Brent Chapman, multiple outdoor athlete Justin Reiter, and mountain biker Ryan Geiger.
The four athletes were chosen for their widely recognized accomplishments in each of their outdoor sport, and are continuously spending time outdoors—especially during peak UV index times. The BullFrog Ultimate Performance Team will employ the use of social media to raise awareness through exciting sports content and videos.
BullFrog's educational efforts revolve around several worrisome statistics:
Men ages 15 to 39 are 55% more likely to die of melanoma than women in the same age group.
Over the past three decades, more people have had skin cancer than all other cancers combined.
One in five Americans will develop skin cancer in the course of a lifetime. 
As part of the initiative, BullFrog commissioned a survey for males aged 18-54 who consider themselves to be outdoor enthusiasts. The survey revealed:
A majority of male outdoor sports enthusiasts perceive a greater risk of injury participating in their sport than from unprotected exposure to the sun's skin cancer-causing rays.
Two in 10 respondents do not use sunscreen at all. Of the remaining 80% who said they do use sunscreen, a majority (56%) use it only occasionally.
A mere 24% take serious precautions throughout the year, using sunscreen daily and reapplying it often.
BullFrog Sunscreen offers three different types of 30 SPF protection:
Land Sport—breathability and sweat resistance
Water Sport—long lasting water resistance
Mosquito Coast—insect repellent/sunscreen combo