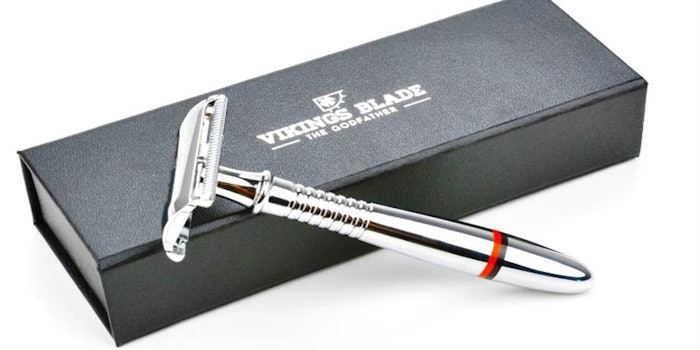 From Harry's expansion into Target to Bevel's rapid rise to Unilever's purchase of Dollar Shave Club, men's grooming is heating up. Now, Australian male grooming brand Vikings Blade has posted $3 million in sales in its first year, in part because of results garnered via Amazon. All of it, including 1,200 "glowing" reviews, was achieved without any marketing spend.
"We are not here to revolutionize the shaving industry..."
While the company has been manufacturing shaving products since 1985, it wasn't until last year that it launched the first branded product, Vikings Blade "The Chieftan" safety razor, which became Amazon's top non-major brand name seller in the category.
The company has since launched its Luxury Sandalwood and Cedar Shaving Cream, in addition to "The Godfather" safety razor and Luxury Badger Brush.
The company has gone public recently because it believes its razors have been "cloned" by Chinese manufacturers, which Vikings Blade claims are of inferior quality, and sold in the U.S. market.
"We are not here to revolutionize the shaving industry like what other younger brands are aiming to achieve these days," said Julian Vue, the head of Vikings Blade. "We are just here to revive the traditional wet shaving tools that our grandfathers used in the past, with good old fashion customer service where you get to communicate directly with the business owner, who actually takes part in the manufacturing process to ensure a superior quality control and total customer satisfaction."
Vue added, "There [are] no middlemen, no outsourced customer service staff who have no idea how to forge hot metals and craft them into a manly safety razor that will last for many generations. Everyone in this family business is a real blacksmith, a real artisan."