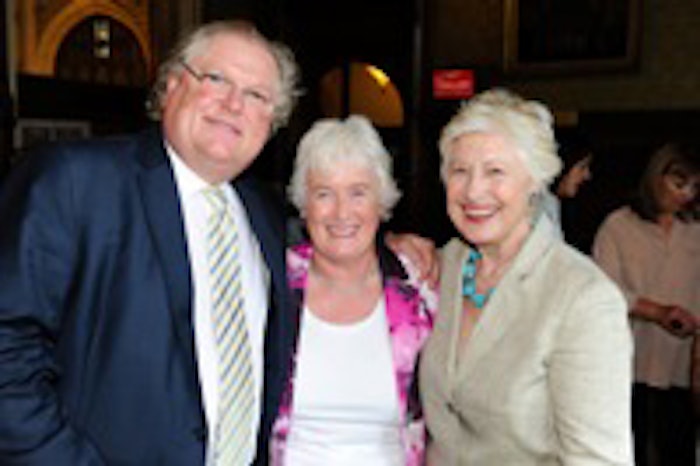 On July 17, 2013, Cosmetic Executive Women (UK) issued a rallying call for politicians to get behind the British beauty industry at a reception at the House of Commons with HSBC. Worth £17 billion to the U.K. economy and employing over 1 million people, CEW(UK) and HSBC's aim was to celebrate and promote the importance of the beauty industry to the U.K. economy at the event, "The Shape of Things to Come," a celebration of this international industry.
Hosted by Iain Wright MP, along with Caroline Neville, CEW(UK) president, and Carol Bagnald, HSBC regional commercial director, London, the event was attended by MPs and peers, and key beauty industry leaders, as well as senior delegates from the wider business community. Keynote speakers were: Lord Digby Jones Kt., former trade minister and director general of the Confederation of British Industry, speaking about his current views on business, the economy and the global marketplace; and Roisin Donnelly, corporate marketing director of P&G and chairman of CEW(UK), who spoke of creating jobs and driving innovation in the U.K. beauty industry.
The global beauty industry is worth €378 billion and predicted to grow to €487 billionn by 2017, representing growth of 29%. U.K. exports for cosmetics have been increasing at approximately 5% every year. In addition, online beauty sales reached £606 million in 2012 and are estimated to rise to £715 million by the end of 2013.
CEW(UK) president Neville commented, "British beauty products are respected globally for their style and innovation in much the same way as British fashion and British luxury brands. Therefore we need to do more to export our products and secure a larger share of the global beauty market. That makes business sense and has to be good news for the UK economy. CEW(UK) are kick starting this campaign and will be there to support brands throughout."
The industry body also wants to see more women encouraged to reach the upper echelons of the beauty business, much in the same way that female MPs were encouraged into the House of Commons in 1997 when the number of female MPs doubled. To support this, 620,000 businesses in the U.K. are owned by women, many within the beauty industry. It is predicted that by 2025, women will account for 60% of all personal wealth, and much of this will sit in the 50 plus group.