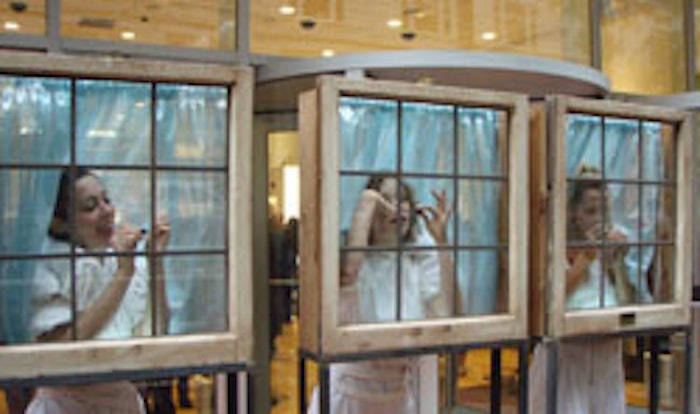 Leslie Benson
In this difficult economic environment, expanding business by opening new stores and remodeling old ones without accruing overwhelming amounts of borrowed credit is almost unheard of. However, one company has been able to rise above the challenges that tighter consumer wallets pose on retailers by not only surviving, but flourishing, with half of its revenue pouring in from its self-sufficient network of stores. U.S.-based Ulta Salon, Cosmetics & Fragrance, Inc., in fact, has proposed a long-term growth plan to more than double its current store ownership to 1,000 doors, as well as its revenue, as it strives to become a billion dollar beauty business.
One of the most recent milestones in the company's journey, which GCI magazine attended, was the Oct. 15, 2008, grand opening of Ulta's first multilevel storefront on State Street, a historic shopping area in downtown Chicago that is experiencing resurgence in popularity. With Ulta's corporate headquarters located only 30 miles away in Bolingbrook, Illinois, the nearby urban debut will become Ulta's four-tiered prototype—the first of its kind—offering a more interactive consumer experience and more than 21,000 prestige, mass and salon SKUs of varied price points.
According to Ulta's president and CEO, Lyn Kirby, who presented her long-term growth plan during an October 15th luncheon for brand vendors and bankers at the Palmer House Hilton, Ulta aims to become the one-stop shop for all consumers' beauty needs. "Our passion is esthetics, escape, education and entertainment—the core of our consumer experience," Kirby said, "and what is getting us through this tough economy."
With six million names in its customer loyalty program, shoppers know Ulta Beauty for its montage of a professional salon, department store and drugstore environment under one roof—offering products and services spanning the gamut of cosmetics, fragrance, hair care and skin care. As of October 13, Ulta reported the operation of 301 stores in 35 states, with most of its stores grossing 10,000 sq ft of retail space. However, the 18,000 sq ft Ulta model on State Street is the first to offer a multileveled approach, with its first floor housing all prestige color cosmetics and men's and women's fragrances in a boutique design; the mezzanine offering a "color library" for mass cosmetics and beauty accessories, divided by merchandise type—by products specifically for eyes, lips or face stationed side-by-side, rather than by brand; the second floor for salon hair care and mass box hair color; and a white-trimmed spiral staircase leading to the impressive third floor salon, built with 13 stations and three spa rooms.
"We spend a lot of time and energy in educating customers in store through testers and store representatives," said Kirby. By offering approachable testing stations like a fragrance fountain and non-commissioned-based beauty consultants walking the floor to educate consumers, Kirby said she motivates women to shop and take ownership of the Ulta brand. "Department stores, in my judgment, have still not figured out this category," Kirby said, "and we'll continue to pick up their customers."
During the Ulta presentation at the Palmer House Hilton, Kirby also discussed the Ulta brand's other superstore attributes, which include off-mall locations with drive-by visibility and "killer co-tenants" like Barnes & Noble; intense marketing through direct mail, newspaper inserts and e-mail blasts; and value propositions that support private label efforts, a loyalty program, gifts with purchases and promotions offered to customers as a thanks for investing in the brand.
"We are fortunate to operate in a category that's quite resilient," Kirby said. "It's affordable indulgence…. We have not yet met a consumer who doesn't love the brand or our positioning in the market."
According to a financial report posted September 4, Ulta remains an innovative retail concept, estimating increased net sales in the range of $259 to $263 million for the third quarter of fiscal 2008. Gregg Bodnar, Ulta CFO, said the company plans to expand to 1,000 total stores within the next five years. The expansion strategy comes on the heels of a 24.3% net sales increase of $249.1 million during the second quarter fiscal year 2008, up from $200.4 million in the second quarter of fiscal 2007. Despite the ongoing U.S. economic recession, Ulta reported opening 72 new stores in the past five months, ending the second quarter fiscal 2008 with more than 2.8 million sq ft of retail space across the U.S.—a 34.6% increase when compared to the second quarter fiscal 2007.
"We continue to deliver increases in customer traffic, which reinforces our ability to deliver growth," said Kirby. "The increase was achieved without additional investment in margin, inventory or advertising."
Under Kirby's leadership, Ulta has transformed from the discount beauty retailer it was when it debuted in 1990 to the dual beauty superstore and specialty store it is today. Prior to joining Ulta, Kirby served as vice president of Avon Products Inc.; then vice president and general manager of new business for Gryphon Development, a subsidiary of Limited Brands, Inc.; and most recently, president of Circle of Beauty, a subsidiary of Sears. She has led Ulta into expansion since 1999. In 2005, Cosmetic Executive Women (CEW) recognized Kirby with an Achiever Award, and in 2007, Ulta received a Hot Retailer Award from the International Council of Shopping Centers (ICSC). In November 2007, under Kirby's leadership, Ulta launched its new e-commerce Web site, featuring 12,000 SKUs and 11 microsites, which Kirby said could provide more than 10% of Ulta's business in the future.
"We attribute our ongoing success in a difficult economy to our proven marketing strategy, solid operational execution and the beauty category, which is more resilient than many retail categories," Kirby said.
For the full year fiscal 2008, Ulta estimates net sales in the range of $1.12 to $1.13 billion, compared to fiscal 2007 net sales of $912.1 million. The company's long-term growth plan includes expanding store space by up to 25%, developing more strategic alliances with major salon brands and learning from the outcome of the new multileveled State Street store prototype.
"We'll watch what happens there to make sure we have the products right and know how to cater to urban women," Kirby concluded. "Then we'll see what's next…. We are in great shape in this economy, and we believe it will be hard for our competition to follow us."