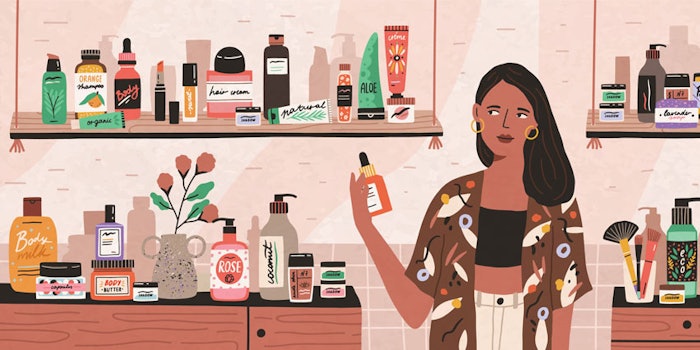 To understand the indie boom and its consequences, present and future, you have to know how and why it started.
Anyone who has been in the cosmetic industry for a while will tell you that we are in uncharted territory. Over the last 30 years, various factors have come together to create an environment in which hundreds of new indie beauty brands are challenging the status quo created by the big, traditional beauty brands.
The biggest facilitator—and it cannot be underestimated—is the internet. The internet has changed how we buy and sell products, how we get information about products and ingredients, as well as who drives product development trends, specifically the types of products and ingredients consumers want. Unfortunately, the unintended consequence is massive industry competition and consumer confusion.
A Brief History of the Cosmetic Industry
Pre-indie Beauty
Before the internet, the big, traditional brands (Estée Lauder, L'Oréal, Coty, Avon, J&J, Unilever, P&G, etc.) controlled the industry. Trends, benefits and key ingredients were dictated by these brands using beauty advisors and mainstream media to educate consumers. Products were only available in department, drug and grocery stores, or home visits (as with Avon), which made it easier to control the messaging.
Over the last 30 years, there were events, movements and ideas that began to take shape in different parts of the world that would ultimately become the foundation for the product and ingredient trends we are seeing today. The emergence of the internet provided a platform for the exchange of ideas and a new way to shop, spurring a global industry transformation with each region contributing in different ways.
Changing Events
There were four key events that played a part in transforming how today's consumer feels about ingredients used in products. While the natural movement is typically credited to the European lifestyle, its U.S. roots can be found in the 1960s counterculture, which encouraged people to live simply and get closer to nature. In fact, this is how much of the non-industrialized world was living.
There were major pollution events that raised consumer awareness of the need to protect the environment and increase sustainability. Links between FDA-approved ingredients and their serious side effects led to a form of chemophobia that still exists today, and further interest in the use of natural ingredients. Lastly, Mad Cow disease outbreaks in the early 1990s raised awareness of animal cruelty and spurred the desire to replace animal-derived ingredients in products.
1. Changing lifestyles
These events created movements. The lifestyle of health and sustainability (LOHAS) philosophy raised consumer awareness of the need for sustainability and environmental and social responsibility. Around the same time, the growing natural and wellness movements used the internet to research information and educate consumers about ingredients and animal testing protocols. These movements have merged to create a new group known as the ethical consumer, the target audience for free-of claims, as well as natural, sustainable, environmentally friendly and cruelty-free products.
For example, in the late 1980s and 1990s, the natural movement began to seep into product marketing. Plant extracts, natural oils and waxes replaced animal-derived and synthetic ingredients. Ingredient stories became a central marketing theme for brands to differentiate themselves in a highly competitive marketplace. The success of the Herbal Essences franchise showed that the consumer was open to change and had a desire for "natural" products.
2. A new way to shop
At the same time, the rise of alternative ways to buy products created increased pressure on traditional sales channels. While baby boomers embraced QVC and other TV shopping outlets, Gen-X and millennials embraced specialty stores like Sephora and Ulta. The idea of a one stop, self-serve, try-before-you-buy model dedicated to selling not only cosmetics, fragrances and skin care, but also toiletries, hair care and beauty tools, whetted the consumer appetite for a new way to shop.
The allure of specialty retailers was the ability to play with and compare hundreds of products in a no-pressure atmosphere because the beauty advisers weren't paid by any one brand. As a result, smaller or indie brands found success in specialty retailers without the costs associated with beauty advisers and sales counters found in the department stores.
Due to declining traffic in department stores, traditional brands began selling on TV and in specialty stores as well. The result is that consumers were purchasing products based on likeability rather than on traditional marketing.
3. Indie brands' embrace of the internet
Leveraging the power of the internet has provided consumers with yet another new way to shop for products. Not only has the direct-to-consumer path made the cost of entry affordable to new indie brands, it has also been a way for those players to quickly respond to trends, benefits and key ingredients that consumers want in their products. It is for this reason that the internet has helped to birth so many new indie brands.
Tapping into search engine data to find global internet trends has made it easier for these brands to market themselves to specific sub-populations of consumers. In this way indie brands have been able to embrace trends from around the world as points of differentiation. As evidence, look at the impact of K-beauty on the US market over the last five years.
4. The digital generation divide
This reliance on digital marketing and social media has created some unintended consequences that may change the industry landscape again over the next five years.
Social media is the primary communication method for Gen Z and millennials. This younger consumer has been the focus of social media-based marketing efforts by many indie and traditional brands. Instagram, YouTube and Twitter are inexpensive channels for brand's to communicate and educate consumers using influencers and bloggers.
Because many of the trendy new product introductions are from indie brands, the older consumers are not buying them at the rate of younger consumers either because they cannot relate to the product types or find the appropriate how-to product education—unless they are digitally savvy. This has created a generational divide that is leaving the baby boomers and some older Gen X consumers feeling abandoned and ignored.
It is also less successful with the younger, ethical consumer who is more concerned with social responsibility than with the products being marketed by celebrities, influencers and bloggers. Ironically, this is driving the younger ethical consumer back to brick-and-mortar shopping. This is not the sub-set of younger consumers that will buy whatever the celebrity du jour is selling and buys purely based on what is trending in social media.
Baby boomers and Gen-X consumers, without the benefit of the internet, shopped in brick and mortar and had to test everything to see if they liked it. They knew what products felt and smelled like, making it easier for them to buy their favorite products online.
Younger consumers know how to research and shop online, but they do not know how products smell or feel, so they need to go into stores to test the products. Therefore, specialty stores are not seeing a drop in sales as some experts predicted, but what will happen once the Gen Z ethical consumers have done their in-person research?
Characteristics of Indie Brands
Indie brands are founded as often by industry outsiders as by industry insiders. There are two types of industry insiders as brand founders—those with some experience and those with less than five years of experience.
For the full article, check out Global Cosmetic Industry's February digital magazine.