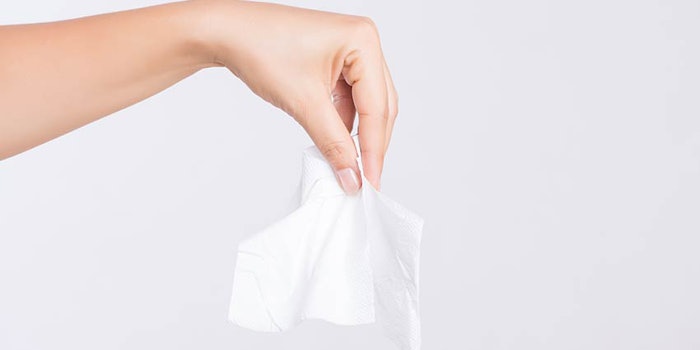 British retailer Holland & Barrett is joining the effort to end a major problem plaguing city sewers around the world—fatbergs. The news comes amid the industry's struggle to ensure consumers properly use and dispose of the products, an educational challenge similar to headwinds faced by recycling programs. (In one recent program, Garnier partnered with Terracycle to produce PSAs that showed consumers how to properly recycle products to boost follow-through.)
Holland & Barrett is removing all of its 34 branded and own-label products in its wet wipe range from its 800 United Kingdom and Ireland stores, reports The Guardian. Beginning in July, it will replace the wipes with eco-friendly alternatives including double- sided cotton cloths, unbleached cotton muslin cloths, cotton pads and exfoliating gloves. Shops in other countries will follow suit by the end of September 2019.
Read more about sustainable packaging in our May packaging supplement.
Standard wipes contain materials that may not biodegrade quickly when entering the sewer system, leading to blockages. Caused mainly by a buildup of wet wipes, fats, oils and grease into a solid mass, subterranean fatbergs have become common in large cities—include a 250-metre fatberg in Whitechapel in London in 2017, which weighed as much as 19 elephants.
"There is a growing awareness of how much our current throwaway culture is damaging our oceans, beaches and rivers," Joanne Cooke, the head of beauty at Holland & Barrett, told the publication. "We want to encourage our customers to think about what they currently throw away and encourage them to swap to more sustainable alternatives. The quickest way for us all to make a positive impact on the world we live in is to choose to spend our money on more sustainable products."