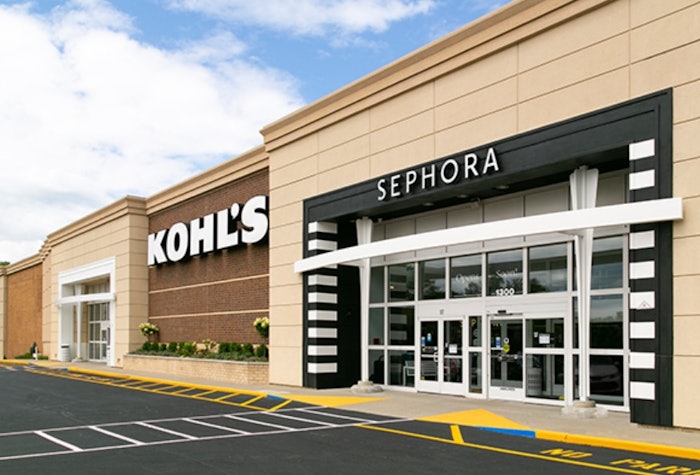 Kohl's is set to open 250 new Sephora at Kohl's in 2023, bringing the total store-in-store count to 850. Eventually, Kohl's at Sephora will expand its presence to all Kohl's 1,100-plus locations.
This expansion includes 50 new small-format Sephora at Kohl's this year, with additional stores opening by 2025 (full-sized stores span 2,500 square feet).
Furthermore, Sephora at Kohl's is expanding into seven new states in 2023, including Arkansas, Idaho, Louisiana, Mississippi, New Mexico, South Dakota and Utah, bringing its presence to 48 states.
Kohl's projects that Sephora at Kohl's will grow to achieve $2 billion in annual sales by 2025.
Placer.AI recently noted that, "Foot traffic data from California, New York, and North Carolina indicates that the share of Kohl's shoppers who also shop at Sephora jumped in 2021 when the partnership first launched."
The beauty sector has been a boon for Kohl's across sectors. In 2022, almost 8 million Kohl's customers purchased beauty products at Sephora at Kohl's, while about 50% of Sephora at Kohl's baskets had an additional category purchased.
In the fourth quarter of 2022, total beauty sales increased 90%. Kohl's achieved high-single-digits percent comparable beauty sales growth in the 200 Sephora shops that opened in 2021, and better than expected beauty sales in the 400 shops opened in 2022, with continued strong digital sales growth on Kohls.com. 
"We are making great strides in building a formidable beauty business with the addition of Sephora at Kohl's," said Karen Daoust, Kohl's senior vice president, general manager, Sephora at Kohl's. "The completion of our 850 stores in 2023 is just the beginning as we look to expand Sephora at Kohl's to all stores, enhance the customer experience and deliver prestige beauty to our customers across the country."