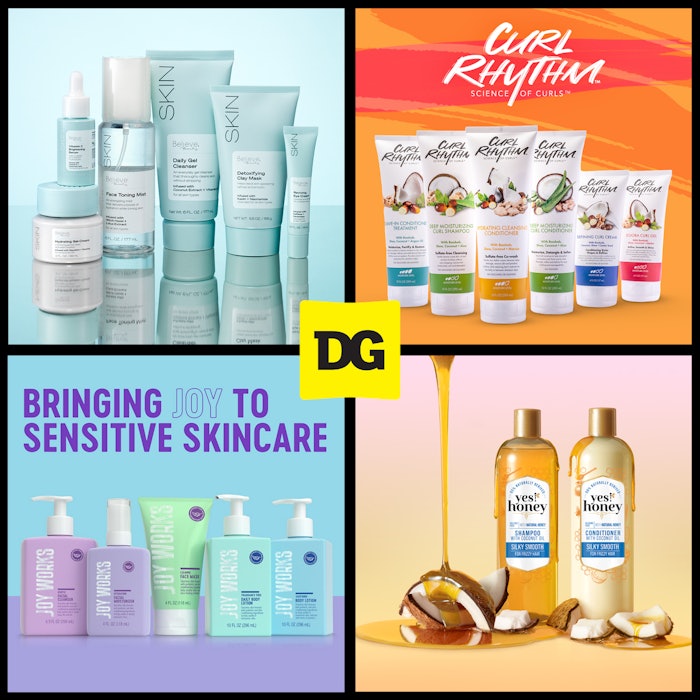 Dollar General (DG), which has experienced staffing challenges amid rapid growth, is making a big play for beauty, mimicking the successes of retailers such as Target, Walmart and Kohl's.
The move is significant, given that the retailer's Q4 2022 net sales increased 17.9% year-over-year to $10.2 billion. 
The low-cost retailer is unveiling new layouts, dubbed Beauty Reinvention, at about 300 stores this fiscal year to "reimagine the beauty, skin and hair care shopping experience." 
The spaces include beauty bars featuring face masks, hair treatments, nail polish, lip gloss, bath bombs and more. 
In addition, DG is increasing its skin care section by 50% and soap and shower offerings by 30%. It is also expanding its hair care and color sections to better service textured hair. 
New brands added to the retailer include three new exclusive skin and hair product lines: Joy Works for sensitive skin; Curl Rhythm, a silicone-free range featuring natural seed oils for textured hair care; and yes! honey, a hair care brand for all hair types featuring 95% naturally derived ingredients (its packaging is made from 100% recycled plastic).
All products are cruelty-free available for $6 or less.
DG's Believe Beauty Skin, which debuted in 2021, has also added three new products: a Detoxifying Clay Mask, Reviving Eye Cream and Vitamin C Brightening Serum.
Meanwhile, more than 1,000 supplementary beauty items are being added to DG's Beauty Reinvention stores in 2023.
"We have been purposeful in our expansion, balancing new, fresh and trendy items with value," said Amanda Wilson, senior beauty buyer at Dollar General. "Beauty Reinvention creates a beauty destination at DG."
Wilson added, "At DG, we are always listening to our customers, and in response we are investing in and expanding our beauty, skin and hair care offerings to meet their needs. Springtime marks an important moment to reset and refresh your self-care routine. We are excited to welcome new products that encompass the quality, performance and affordability that is expected from our brands and hope our shoppers enjoy the new experience."