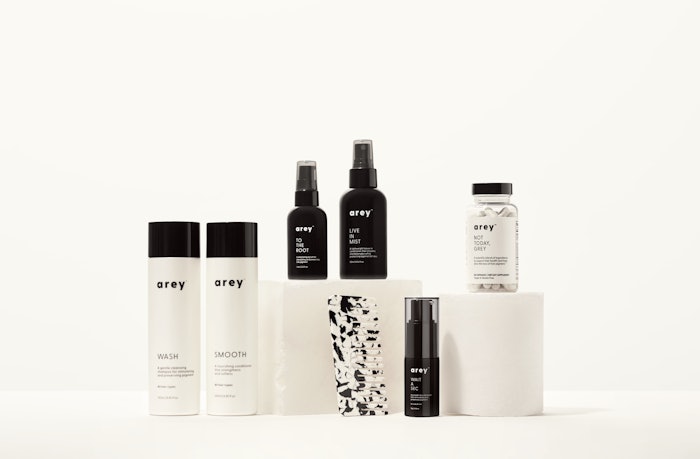 Arey, a hair care brand that targets the growth of gray hair, has announced its first retail partnership with Credo Beauty.  
The brand's full line will be available at Credo which includes:
Not Today, Grey (daily supplement)
To The Root Serum, Wash Shampoo
Smooth Conditioner
Live In Mist
Wait A Sec dry shampoo
Two new products will launch at the retailer in the coming months.
Arey will be available at all Credo locations nationwide, as well as on credobeauty.com.
In 2022, Arey raised a $4.15 million seed round led by the Female Founders Fund and Greycroft, with the funds used for R&D and distribution expansion.
Arey has experienced 1,100% year-over-year growth since it debuted in 2021.
Annie Jackson, Credo's co-founder, said, "Credo is extremely selective on the brands we carry, and the bar is set very high. Compliance with our rigorous standards is a must, and beyond that they must show innovation on both the product efficacy and sustainability side. Arey meets both, and beyond that shows first-in-market technology. It's so exciting and such an amazing solution to offer our customers. We are thrilled to partner with Arey at Credo."
Allison Conrad, co-founder of Arey, said, "As a consumer I've always trusted and relied upon professional recommendations. When I saw my first grey hair, I went to my hairstylist (and now business partner), Jay, for advice. His suggestion to avoid dyeing my hair, along with learning that only 30 percent of grey hair is  genetic, is what lead us on the journey to develop a proactive, science-backed approach toward aging hair that allows you to delay the grey from the inside-out and outside-in. Credo's commitment to clean beauty makes them the perfect retail partner for us, and we're thrilled to be able to combine forces with a trusted brand like Credo and share this knowledge and education with their customers, as well as be on shelves with other amazing brands we shop and admire."