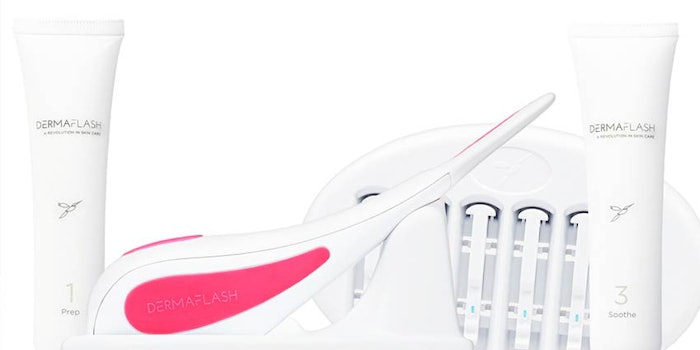 Guthy-Renker Ventures recently made an equity investment in Dermaflash, which recently debuted its dermaplaning device at Ulta Beauty. The two companies are now partnering to launch an infomercial to showcase the device and its related product family, according to an official announcement. Perhaps Guthy-Renker will be able to work the same magic that worked so well for Proactiv.
Dermaflash, which "offers a superior level of exfoliation while simultaneously removing pesky peach fuzz from a woman's face," currently retails at Neiman Marcus, Nordstrom, QVC, sephora.com, ulta.com, Macys.com and Dermstore.com, bringing a traditional medspa product directly to consumers. Earlier this year on QVC, Dermaflash sold more than 30,000 devices in less than a day.
As part of the partnership, Guthy-Renker will create and manage a direct response distribution channel for Dermaflash.
"My passion is empowering women of all ages and ethnicities to attain flawless, camera ready skin," said said Dara Levy, CEO and founder of Dermaflash. "I am so proud to have built a company by women for women. I am truly honored to be partnering with Guthy-Renker. Dermaflash enables women to take their skin care concerns into their own hands in the privacy of their own homes. I am ecstatic that our partnership will provide the opportunity to get this magic wand into the hands of as many women as possible."
"We are impressed by Dara's instincts in building this business and see significant, global growth potential in the years to come." said Bill Guthy, founding principal and co-chairman of Guthy-Renker Ventures.
"Dermaflash is an excellent addition to our portfolio, launching a new category for Guthy-Renker LLC that complements all of our skincare brands," said Guthy-Renker CEO Rick Odum.