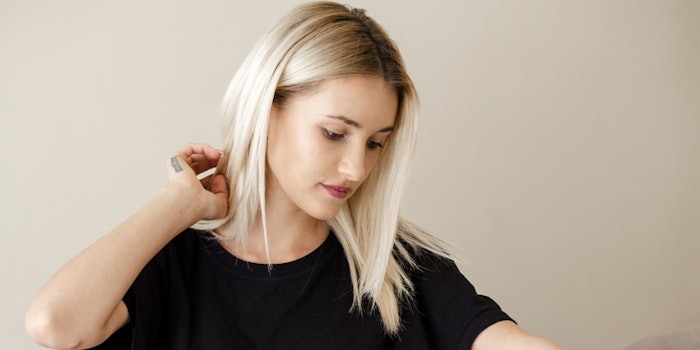 Despite grim predictions for the impact COVID-19 will have on the beauty and personal care market, consumer interest in several beauty categories is once again growing.
According to Spate data, the popularity of several skin care, hair and makeup products dropped significantly after February 16, 2020, but showed an increase in popularity after March 15, 2020.
Since February 16, Spate found that "root touch up," "face bronzer" and "foot mask" all experienced an increase in online search volume. Terms such as "hairstyle," "microblading" and "facial" all experienced a decrease in online search volume.
Hair
With consumers on lockdown and hair salons closed, the focus has turned to hair dyes and treatments, with an emphasis on at-home maintenance solutions, according to Spate.
Hair coloring products had the strongest growth with an increase of more than 65,000 searches, with "hair dye" and "hair bleach" and "root touchup" were among the most popular.
Searches for "root touch up" grew by 340.7% to reach 48,703 searches.
"Hairstyle" searches saw a decline in searches by 158,000 since the inception of COVID-19.
The most popular searches for hair styling products included "hair spray," "hair kit" and "wave pomade."
The most popular searches for hair and scalp products included "hair oil," "dandruff treatment," "hair oil treatment" and "hair relaxer."
Searches for "hair masks" also gained popularity.
Skin Care
Spate expects that consumers will turn to skin care treatments and masks as a self-care indulgence and as a way of multitasking.
With a sum of over 200,000 searches, popular skin care products included "facemask," "cleansing," "moisturizing" and "foot care products."
Searches for "face mask" grew by 82.9% to reach 70,190 searches.
Consumer interest in sunscreen and tanning products declined in popularity by 29,683 searches.
The most popular searches for face mask products included "turmeric mask," "mask kit," "clay mask" and "acne mask."
The most popular searches for moisturizer products included "SPF moisturizer," "silicone-free moisturizer," "aloe vera lotion" and "alpha hydroxy body lotion."
The most popular searches for foot care products included "foot mask," "foot grater," "callus remover" and "callus softener."
The most popular searches for accessories included "face scraper," "skin care fridge," "facial steamer" and "soap holder."
Makeup
Spate explained that as a large portion of the world's workforce shifts to working remotely, makeup products "that have a high impact on video calls" are being sought out by consumers. Additionally, consumers on lockdown have found extra time to clean makeup tools and applicators.
"Bronzer," "brushes/applicators" and "eyebrow products" totaled over 90,000 searches.
Searches for "bronzer" grew by 220% to reach 33,350 searches.
While "eyebrow products" gained popularity, searches for eyelash and cosmetic eye products decreased by around 80,000 searches. "Lip treatment" searches were also less popular.
The most popular searches for face bronzer products included "face bronzer," "face cream bronzer," "face bronzer brush" and "face bronzer stick."
The most popular searches for eyebrow products included "eyebrow enhancer," "eyebrow palette," "eyebrow serum" and "micro-blading pen."
The most popular searches for brushes and applicators included "makeup sponge," "contour brush," "spoolie" and "highlighter brush."
The most popular searches for value sets included "makeup kit" and "foundation kit."
For more information, please visit www.spate.nyc/beautytracker.