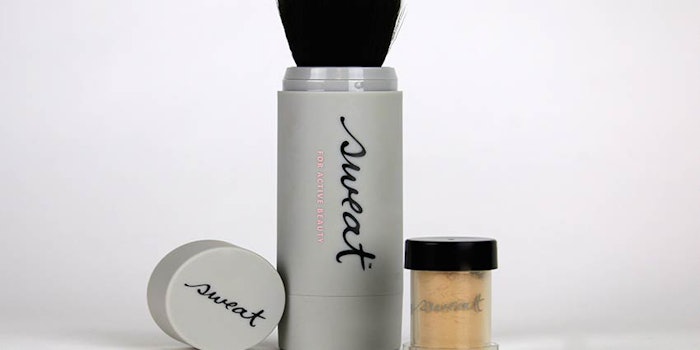 The athleisure beauty trend continues to expand. Sweat Cosmetics, which was founded by pro soccer athletes and "bridge[s] the gap between fitness and beauty," now offers its Translucent Powder and Mineral Foundation at Sephora.com.
The products' anti-bacterial twist-brush design features an all-in-one loose mineral powder that protects and repairs skin before, during and after physical activity. Both retail for $42.00, with refills for $24.00.
"Nothing on the market caters to women who love to break a sweat, until now."
The powder is available in a 40-minute water resistant SPF 30 sheer, universal powder or an 80-minute water resistant SPF 30 loose powder foundation, preventing clogged pores and sweat runoff. 
The brand's athlete ambassadors include Elena Hight (snowboarding), Natasha Hastings (Olympian, track) and Christmas Abbott (CrossFit competitor).
"When we started Sweat, our vision was to be aligned with Sephora, the leader in global beauty retail," said Leslie Osborne, Swea CMO and co-founder. "As former professional athletes, we are creating products to empower women and encourage active beauty. Now, a year after our initial launch, we couldn't be more excited to partner with Sephora."
"We are thrilled that Sephora has taken interest in our brand and believes their customers want a product that bridges the gap between beauty and fitness," said Courtney Jones, Sweat CEO. "Nothing on the market caters to women who love to break a sweat, until now."