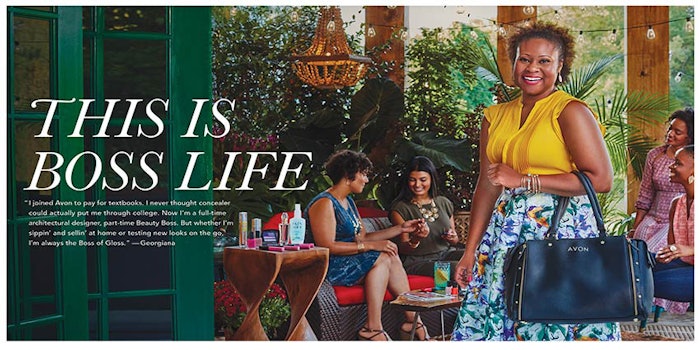 New Avon recently boosted its social selling expertise, and now the company is launching a campaign highlighting three models of entrepreneurship with the ailing beauty company.
"This is Boss Life" is focused on increasing representative recruitment and engagement, according to the company, by focusing on "a new kind of life where they are the boss."
@AvonInsider will be pushing #BeautyBoss as part of the campaign, which has outlined three distinct representative models:
Millennials who join post-college to pay off student loans as they transition into the professional world.
The so-called "momtrepreneur" who views their representative business as strong example for young girls.
Couples who run a small family business as Avon representatives.
"As an iconic American brand with a 130 year history of empowering women, we arguably have inspired more female entrepreneurs than any other company in history," said Scott White, chief executive officer, New Avon LLC. "Every Avon Representative has a unique story of how they are finding success as their own boss. We have the right tools and support to help them build a successful social selling beauty business. The 'This is Boss Life' campaign spotlights that there is nothing more beautiful than succeeding on your own terms."