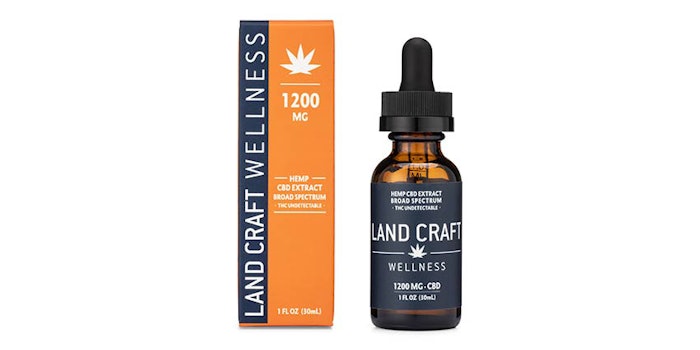 Land Craft Wellness, the brainchild of Chris Kostyun, a New York EMS chief, offers hemp-derived broad-spectrum CBD tinctures, topicals and natural edibles with undetectable THC levels. The brand's latest launch is a CBD tincture in organic coconut-derived MCT oil. The undetectable THC levels are critical for any first responders who are not permitted to ingest any level of the material.
Land Craft Wellness Hemp Extract THC Undetectable is available in 1,200 mg strength, is housed in a 1 oz dropper bottle and retails for $99.99.
The innovation is the product of Kostun, farmer Rich Taylor and skin care formulator Kelley Taylor. Everything in the formula is derived from New York State. The packaging of the THC-free product is orange and blue to reflect the classic colors used in the early days of EMS, white, orange and blue.
"I get drug tested," says Kostyun. "Every EMT, paramedic, dispatcher and law enforcement official I work with gets tested. By taking full-spectrum CBD, we are playing a numbers game: how much would it take for these workers to test positive and lose their jobs as a result? I proposed a THC-free product so I could help my friends who were responsible for the safety of others."
"Every day is unpredictable," says Kostyun, "With the current crisis especially, you'll have to work harder for 30 minutes than you've worked in the last month. Maybe you pull your back, maybe strain your neck. Maybe you won't sleep tonight, or tomorrow night, or this week. In the wake of COVID-19, good quality sleep and reduced anxiety are more important than ever."