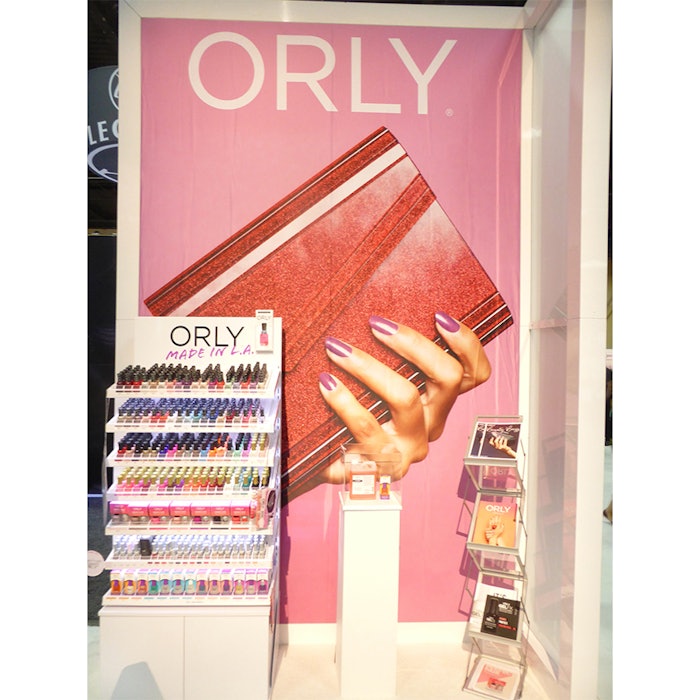 Cosmoprof North America 2017 hosted 1,278 exhibitors and more than 36,000 visitors. This year, the event enhanced its focus on emerging brands in the consumer and professional space, multicultural beauty as well as a significant focus on 49 "green brands."
What's next: • Belleza y Salud Bogota, September 27-29, 2017 • Cosmoprof/Cosmopack Asia, November 14-16, 2017/November 15-17, 2017 • Cosmoprof Bologna, March 15-18, 2018 • Cosmoprof North America, July 29-31, 2018 • Cosmoprof Mumbai, September 10-11, 2018 • July 29th through 31st, 2018.
Orly presented an expansion of its professional offerings, including the GelFX Easy-Off Basecoat, which can reportedly halve the time it takes to remove a manicure, without compromising on shine. The basecoat—no primer needed—is powered by vitamins A and E, as well as pro vitamin B5. Following foil wraps, gels easily push off the nail.
The GelFX Bodyguard soak-off gel overlay provides a smooth surface for manicures, while protecting and strengthening the structure of nails as they grow. The product can be used for a natural look or as a base for nail color. In addition to vitamins, the formula also contains sugar-derived sucrose benzonate for enhanced shine. Bodyguard comes with a new Guardian Brush, which is designed to deliver product precisely—without waste.
The company displayed its 18 new Breathable shades, which offer lacquer lovers with nail-strengthening benefits of nail treatments. Breathable Treatment + Color allows moisture and oxygen to reach nails, promoting stronger, healthier nails, while also allowing excess moisture to escape.
Orly also previewed its fall and holiday collections, including the Velvet Dream Collection, which will be released in August. The shades include: Silken Quartz (Rose Quartz Foil), Just Bitten (Ruby Red Crème), Black Cherry (Cranberry Crème) Velvet Kaleidoscope (Purple Teal Iridescent Chrome), Blue Suede (Teal Denim Crème) and November Fog (Grey Lilac Crème).
The event also highlighted the ascension of the next generation of the Pink family in the Orly Business. President and CEO Jeff Pink has named his children to the following roles: Shanee Pink, creative director; Ran Pink, content creator; and Tal Pink, digital director.