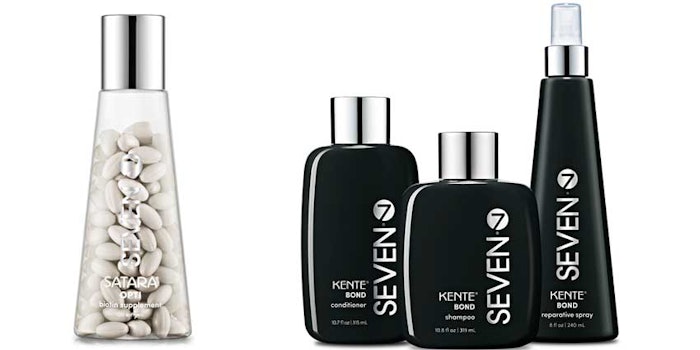 Seven Haircare has announced the launch of Satara Opti and the Kente Bond System to benefit healthy hair during the winter months.
Satara Opti is a biotin supplement, which provides strength to the hair and nails. In addition to a blend of botanicals, a few of the key ingredients includes:
Biotin or vitamin B7
Horsetail herb, nettle leaf extract
Borage Oil, EPA and DHA
Dandelion root
The Kente Bond System consists of three products: a shampoo, a conditioner and a reparative spray, available together as a complete package with key ingredient, amino acid complex.
Bond Shampoo helps hydrate and soften dry, damaged hair, while also cleansing.
Bond Conditioner seals split ends and helps reconstruct broken disulfide bonds, while infusing moisture and creating natural volume.
Bond Reparative Spray revives weakened tresses and fortifies them against future damage. It helps reduce blow-drying time and ensures strength of hair.