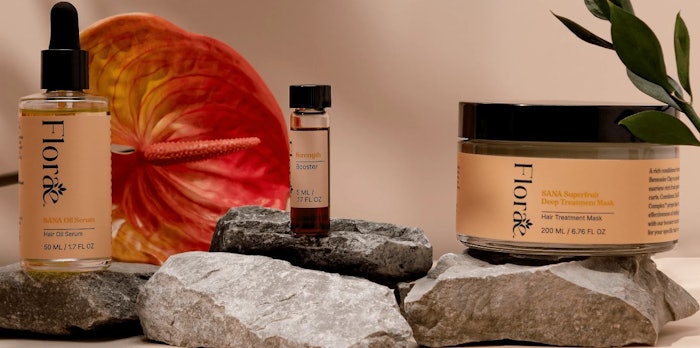 While the personalized hair space has expanded amid strong category performance, platforms tooled toward textured hair are on the rise. Most recently, Florae Beauty debuted its personalized, clean, plant-powered and scientist-crafted formulas for textured hair. 
Founder Natalie King, Ph.D. wanted to create a brand that "combined the scientific rigor of her medical work and her personal hair journey as an Afro-Latina woman with textured hair."
The direct-to-consumer personalized hair care market was reportedly valued at $2.21 billion in 2021, and is expected to expand to $10.55 Billion by 2030, per an analysis from Insight Ace Analytic. The North American share of the market stands at 42.2% as of 2021.
Previously: Evme Debuts as an Allergen-Free Brand for Those with Sensitive Skin
Brands addressing the personalized needs of textured haired consumers include Carra, an app dedicated to helping women with textured hair discover their personalized hair care routines with the help of expert advice.   
Founder Winnie Awa has said, "We match you to the best product and routine to suit your individual drawing from dozens of brands I want to help women reconnect with their hair in a joyful, celebratory way. Let's banish wash day dread once and for all! 
Myavana, meanwhile, offers digital consultations to determine client hair goals; offers a hair analysis kit to assess customers' strands in a lab; offers product, ingredient and regimen recommendations based on the results; and provides ongoing virtual consultations with hair professionals. 
A new brand, OurX, is forthcoming, per the brand's site. The platform will reportedly offer a "comprehensive solution designed to take the guesswork out of your textured hair and scalp care for good—powered by the personalization, innovation and care that you've always deserved."
The service will offer relevant content, "tech-powered, personalized regimens," and "science-backed product innovation."
In the meantime, Florae Beauty's debut product range includes:  
Sana Hydration Booster Treatment Collection
Sana Growth Booster Treatment Collection
Sana Strength Booster Treatment Collection
The collections each include a hair oil serum, hair treatment mask and a booster. 
Customers can take a quiz to determine which products will work best for them. 
A percentage of  Florae's profits are donated to organizations that support women who are experiencing various hair and scalp conditions, such as cancer, alopecia areata, lupus and burns.