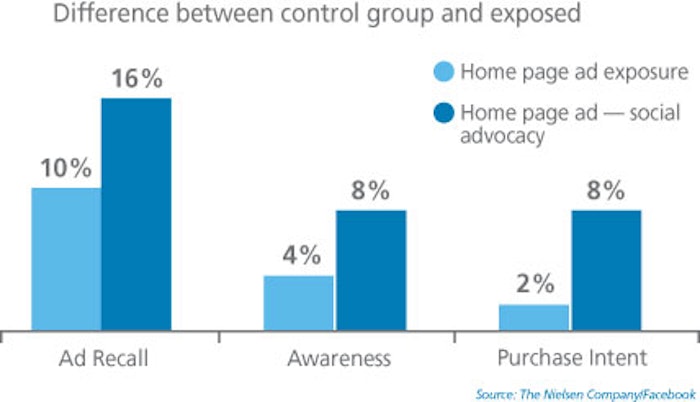 Learning the language of social media is not merely worthwhile—it's a key factor for every beauty brand's success.
A "one size fits all" approach has never been the key to success. Luckily, the social media arena holds many options for successfully interacting with consumers and advocates.
Real-time responses to consumer input/questions break down a lot of walls.
In a study among 800,000 Facebook users, Nielsen Company market researchers revealed statistics convincing enough to persuade even the most skeptical brands to try their hand at social media. The study showed that putting an advertisement in a social context compared to just placing a standard online ad yields twice the awareness and a whopping four times the purchase intent. This isn't just a slight uptick—these figures illustrate a strong trend in the way consumers make their purchasing decisions.
And, luckily for beauty brands across all categories, new tools are being developed every day, and they are designed to better engage consumers and increase the impact of social outreach. This article intends to shed some light on trends and best practices, broken down by popular beauty categories: anti-aging, acne, color cosmetics, nails, hair and fragrance.
And it's worth taking a quick glance back before looking forward.
Where We Were in 2010 and Where We Are in 2011
It seemed that in 2010, while all the major players in the beauty industry had a social media presence in place, only few were tapping its full potential to truly engage with and listen to their consumers. Sometimes, the mere existence of a Facebook page counted as social media strategy. This is akin to simply buying the frame that holds a billboard. The majority of brands had not sufficiently focused on delivering a comprehensive social marketing strategy that truly leverages its true word-of-mouth potential and tracked their return on investment.
Here's the scenario in 2011:
Beauty brands are learning social media's lessons. Or, as Kristen Yraola, director digital media and Internet at Maybelline, so aptly said at an event on beauty and social media* organized by CEW: "Digital and social is like a new, foreign language. You have to learn how to say 'Thank you,' 'please' and 'Where can I find the bathroom?' "
But taking the time to learn this new language is not merely worthwhile—it's going to be a key factor for every beauty brand's success, no matter how large, indie or prestige the brand may be. The percentage of time Americans are spending online has more than doubled over the past few years, while time spent on other communication channels has dropped or remained flat. Concurrent with the rapid increase in the time spent online, there has been a dramatic rise of time spent on social media channels. Today, social networking is the number one online activity, with people spending more than six and a half times the amount of time on social media as they do on Internet searches. And it's not simply about quantity of time, it is also the degree of influence that social media possesses for consumers in their purchasing decisions. What's most important for beauty brands is that women are said to account for 84% of the activity on social networking sites. Let's use the opportunity and really engage with them.
Marisa Thalberg, vice president of global digital marketing, The Estée Lauder Companies, Inc, told a CEW audience* that beauty is prone to being successful in the realm of social media because women are really passionate about their beauty products and beauty and skin care in general. Opinions are strong and consumers are open to, if not downright eager to, share. Case in point: In the two years since the Estée Lauder websites opened up to invite reviews, more than 200,000 consumers shared their thoughts and opinions about certain products.
What's Working for Beauty Brands
A "one size fits all" approach has never been the key to success. Luckily, the social media arena holds many options for successfully interacting with consumers and advocates.
Here are some best practices that have been successfully implemented:
Anti-aging and Anti-acne
Consumers have become jaded and are skeptical of overly aggressive claims that come directly from the company. They are tired of hearing empty promises that they can't easily reproduce. However, online beauty community and social media agency BeautyStat.com has noted a lot of engagement when brands develop ties to consumer ambassadors: beauty bloggers and vloggers are good examples of those who can provide testimonials on behalf of the brand. These ambassadors share their experience with the products and what results can be realistically expected. Sometimes, bloggers and vloggers even end up becoming spokespeople for a brand.
There is also a lot of engagement when brands have their resident scientists or dermatologists connect directly with the consumers and answer questions on Facebook or Twitter. These real-time Q&A sessions break down a lot of walls, help women concerned about the visible signs of aging and their acne-prone skin feel better informed, and allow for personalized recommendations.
Color Cosmetics and Nails
Makeup is one of the most instantly transformative beauty category, and we've seen not just a lot of engagement but downright excitement when contests regarding the most exciting makeup look or nail art were involved.
Brands can involve makeup and nail artist as judges to narrow down finalists and open the voting to consumers to pick the winner. Consumers love playing with their own looks and seeing the different looks others can create with a simple (or more elaborate) set of makeup and nail polish colors. While many brands still use predominantly Caucasian models, these contests help consumers to see how different shades look on women that have similar skin tones as themselves.
Hair
Women are very passionate about their hair as it can make or break the confidence for the day—it's called "Bad Hair Day" for a reason. Women also simply love to see different hairstyles and learn how to recreate them at home.
This is a category where celebrity tie-ins can prove to work wonders on raising the levels of engagement. Since women take magazine clippings to their stylists, video tutorials on how to recreate the updo an actress wore during that award show will likely be widely commented on and shared.
Q&A sessions, preferably broken down by hair concern, are also a good idea. For example, management of curly hair is a huge topic right now. Video tutorials are a great vehicle to educate consumers on the best hair care ingredients and allow for personalized recommendations.
Fragrance
Fragrance is different from other categories because consumers can't access the most prominent feature of a fragrance through social media channels—its scent.
Therefore, this category could benefit from brands that truly strive to create an experience and a world around a scent. Why not try to incentivize consumers to share stories or post photos that they feel represent the fragrance they love?
What is your social media success story? Be sure to share it, and we wish you and your brand's outreach efforts every success.
Katja Bartholmess is the owner of boutique branding strategy firm www.copygold.com. A German native, she has worked and lived in Berlin, London, Pretoria, Tokyo, New York, and utilizes her savvy international outlook to connect clients to audiences across the globe. She works with diverse brands on finding their voice and the best ways to amplify it across all communication channels. [email protected]
Ron Robinson is the founder and CEO of BeautyStat.com, an online beauty community and social media agency that reaches more than 20 million consumers. He is a veteran product development executive who has worked for such leading beauty companies as The Estée Lauder Companies, Avon Products and Revlon Products. He currently works with beauty brands, retailers and agencies to connect them to the BeautyStat community for online PR events, sponsored content and rich consumer insights. [email protected]