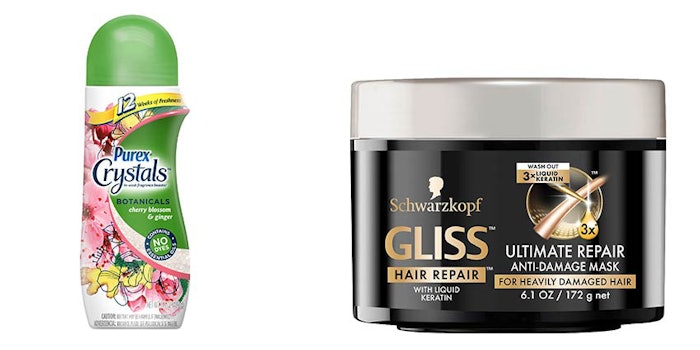 Two Henkel  products—Schwarzkopf's Gliss Ultimate Repair Anti-Damage Mask and Purex Crystals Botanicals—have been named Product of the Year for 2018.
Product of the Year winners are selected via a survey of 40,000 consumers conducted by Kantar TNS.
Schwarzkopf Gliss Ultimate Repair Anti-Damage Mask, recognized in the "Beauty" category, uses liquid keratin to repair damaged hair and replace lost keratin. "Laundry Booster" winner Purex Crystals Botanicals Cherry Blossom & Ginger blends essential oils and minerals, and offers a warm, floral scent and dye-free formula.
Related: Henkel Opens Professional Hair Care Headquarters in California
"We are so excited that the two Henkel brands, Schwarzkopf Gliss and Purex Crystals, have taken home awards for the 2018 Product of the Year," said Ed Vlacich, region head, Henkel Beauty North America. "To be selected among thousands of products in a competition backed by the votes of 40,000 consumers is a great honor, and we're so thankful. At Henkel, we look forward to continuing our mission of giving consumers innovative and high performing products across all brand portfolios."