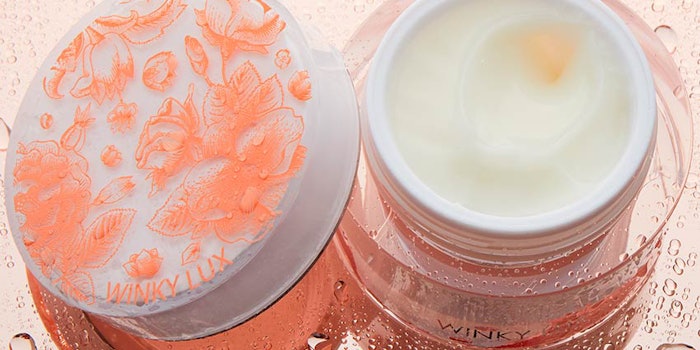 Winky Lux has announced its launch within Target. Winky Lux will debut in-store and online at Target March 1, 2020 with more than 68 SKUs, ranging from its Flower Balm to its best-selling White Tea Tinted Veil Moisturizer.
Related: 33 Disruptive Beauty Brands to Watch in 2020
The brand will enter Target as a part of the retailer's recent strategy to bring in similarly buzzy digitally native brands like Casper, Harry's, Flamingo, Barkbox, Quip and Native, all of which have had respectively successful launches within Target.
Similar to Winky Lux's own standalone experiential stores, Target's merchandising of the collection will feature its signature displays, like neon signs, an oversized lipstick factice and a specific display for its Flower Balm.
Winky Lux's in-store design at Target will bring the brand to life for new and existing customers to discover its products.
For its first two years, 2015-2017, Winky Lux boot-strapped while building and launching, before raising a seed round of $2 million in 2017 and a Series A of $6 million in 2018.
With the introduction into Target, founder Natalie Mackey and the brand continue to expand current stockist and retail ventures including Nordstrom, U.S. and U.K. Sephora, Ulta, Macy's, Bloomingdales, as well as Winky Lux stores in New York City and Nashville.
"We are absolutely thrilled to be launching with Target to expand the joyful beauty community we've created online and through our retail stores in Nashville and New York City," Mackey said. "We look forward to continuing to bring both our brand to life inside Target's doors and introduce our cosmetics and skin care to our loyal customer base and beyond."