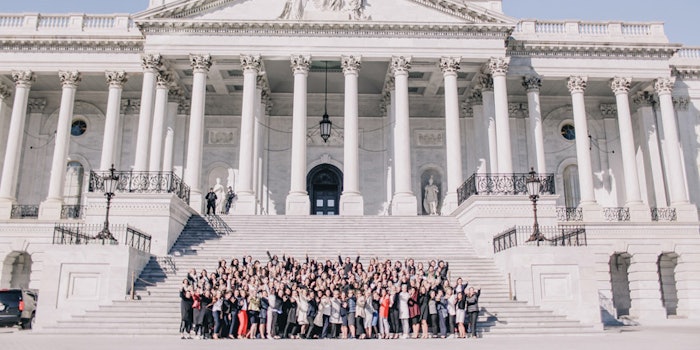 Beautycounter
Beautycounter has led two days of virtual lobbying on cosmetic reform with key senators and representatives.
Related: Carlyle Group Acquires Majority Stake in Beautycounter
The brand was joined by members of Beautycounter's science advisory council and the Counteract Coalition, a Beautycounter-led collective of businesses working together to help pass what it terms as "health-protective" laws in the beauty industry.
Beautycounter has spent nearly a decade advocating for legislation that it says would allow the FDA to screen ingredients for safety, require more transparency from brands, clearly define terms like "natural" and have the ability to recall products that harm consumers.
Beautycounter and its community have sent more than 200,000 emails, 175,000 texts, made 16,000 calls and held 2,100 meetings with legislators in the United States and Canada, urging lawmakers to support cosmetic reform.
In 2019, Gregg Renfrew, Beautycounter founder and CEO, testified in a House hearing introducing the Cosmetic Safety Enhancement Act, leading to the first vote in Congress on a standalone cosmetics bill in more than 80 years.  
Renfrew said, "Beautycounter believes in the power of advocacy to change our country's outdated laws in order to better protect consumers. Consumers deserve federally regulated, health-protective safety standards, and I'm proud to work with our coalition of clean beauty brands as well as leaders in public health policy and medicine to push for change."
Joseph Laakso, Ph.D., director of science policy at the Endocrine Society and member of Beautycounter's science advisory council, said, "Products are increasingly chemically complex, and outdated testing strategies are often insufficient to accurately capture long-term risks from certain chemicals. As head of science policy at the Endocrine Society, we know that transparency is essential for consumers' ability to manage their exposures, and also valuable for scientists and physicians who want to have a more accurate understanding of our chemical exposures and potential health effects. I'm encouraged by the actions of companies like Beautycounter that are aiming to be at the vanguard of product safety, while also improving testing methodologies and maximizing transparency. I hope that by participating on their science advisory council and advocating for changes to our laws, I can help them advance these goals to improve the safety of personal care products."