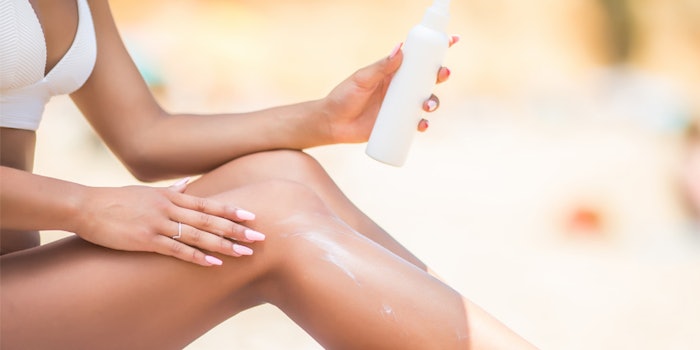 A new Bloomberg report takes aim at benzophenone and octocrylene content in sunscreens, highlighting two studies published in March 2021 that found benzophenone content in commercial products.
Update (August 24, 2021): The research mentioned in the Bloomberg report has since elicited a detailed rebuttal from an author at the University Hospital of Zurich. 
Previously: The study authors, including Craig Downs, executive director of the nonprofit Haereticus Environmental Laboratory, argue that benzophenone, a degradation product of octocrylene, is a potential carcinogen and could behave as an estrogen disruptor. The Personal Care Products Council (PCPC) has pushed back, affirming the safety of products on the market.

The Research
Downs, et al., published their research in Chemical Research in Toxicology; Belgian research, published in Contact Dermatitis, found similar results. In the Downs paper, benzophenone concentrations were initially measured in nine commercial sunscreens from the European Union and eight from the United States; all but one product contained octocrylene. The products were then subjected to the U.S. Food and Drug Administration's (FDA's) accelerated stability aging protocol for six weeks and measured again.
Sixteen of the 17 products initially registered an average 39 mg/kg benzophenone. After accelerated aging, the 16 octocrylene-containing products averaged 75 mg/kg; benzophenone was not detected in the product not containing octocrylene. As a result, the authors are petitioning the FDA for any product containing octocrylene to be removed from store shelves.
PCPC Response
The PCPC issued a statement responding to Down's, et al.'s, study:
"...The recently published research paper, 'Benzophenone Accumulates Over Time from the Degradation of Octocrylene in Commercial Sunscreen Products' perpetuates misinformation and needlessly misleads and scares consumers about the safety of sunscreen products, potentially discouraging sunscreen use and putting consumers' health at risk.
"The study claims the sunscreen ingredient octocrylene can naturally degrade into the chemical benzophenone and increase in concentration as sunscreen products age, suggesting a potential risk to human health. However, global regulatory agencies have concluded that octocrylene is safe as a UV filter in products such as sunscreen cream and lotion, sunscreen pump spray, face creams, hand cream and lip products."
The PCPC cited that the European Union (EU) includes octocrylene in Annex VI of the Cosmetic Products Regulation (No. 1223/2009) as an approved UV sunscreen filter. The EU's Scientific Committee on Consumer Safety (SCCS) also concluded octocrylene is safe in sunscreen products as recently as March 31, 2021.
The council added, "It is important to note that the report's authors concluded that additional research should be conducted."
Keep up with the latest regulatory alerts here.