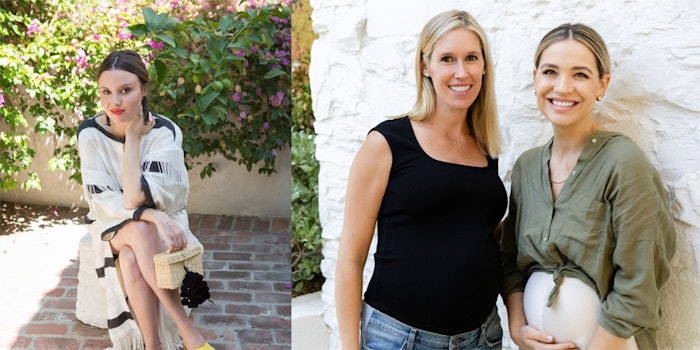 Perelel, a company that offers pre- and postnatal vitamins and supplements, has announced the addition of Geri Hirsch as strategic adviser and member of the Perelel advisory panel.

Related: Maesa Appoints Marc Rey to Board
The panel consists of experts that include specialists in a variety of fields such as OB/GYNs, psychiatrists, reproductive endocrinologists and more.
Hirsch will be working alongside the founders and the brand's current advisory board to position Perelel as a brand serving women throughout every stage of motherhood (pre-conception through postpartum). 
Hirsch is the founder of health and wellness site becauseimaddicted.com as well as the creative director and founding team member of the clean makeup line, Saie Beauty.
Interview: Alex Taylor &

Tori

Thain

Gioia
Alex Taylor and Tori Thain Gioia, Perelel co-founders and co-CEOs, spoke with Global Cosmetic Industry about Perelel.

1. What do the panelists provide Perelel in terms of strategic guidance?
Each Perelel panel member offers their unique perspective and expertise in various ways. For example, the doctors who sit on our panel guide new product development and directly guide formulation while also evangelizing the brand within the medical community.
They also serve as exclusive experts for all of our content and programming. Just as our doctors inform these various areas, our practitioners and experts also contribute to content, participate in our community programming, and offer unique insight into market trends and interesting partnership leads.
2. What lessons from the beauty world have they used to build Perelel?
We have adapted many principles from beauty marketing and applied them to the supplement category, such as packaging to the way we approach strategic partnerships and beyond. We believe consumers see wellness as an extension of beauty—from the outside in and the inside out—the lines have been completely blurred.
3. What areas are they looking into in terms of future product innovation?
Our goal is to support women through each phase of motherhood. As moms, we understand the nuanced needs of today's women as she embarks on her fertility journey, grows through her pregnancy, and assumes her "second life" as a mom. As we look ahead, we will be offering additional layers of customization to ensure we're at her side each step of the way.
Interview:

Geri

Hirsch

1. What do you find most compelling about the ingestibles/supplements market?
Three things:
Extreme growth thanks to the re-branding of an entire category known largely as "wellness" which has brought a whole new level of sexiness and fun to the ingestibles/supplement space.

The opportunity to share and consume information through content about a category that was previously a bit overwhelming and confusing (albeit, still can be).

Smart consumers who hold brands accountable.
2. What lessons have you learned in building Saie that might be of value for Perelel?
There are so many lessons that come with launching and building a direct-to-consumer female-focused brand. From macro-strategy to branding choices, optimization, sustainability, social, impact, influencer marketing, etc., and of course, arguably most importantly, the mistakes we've made along the way. I'm excited to be a resource for Perelel for all that comes their way.
3. How do you view the opportunity for greater crossovers between the beauty and well-being markets? What does the future look like?
Beauty and wellness exploded over the last five years thanks to the oversharing on Instagram/TikTok of every routine and life detail imaginable. Then it was further accelerated by the pandemic while everyone was stuck at home.
Watch any big female influencer and chances are, you will see a mention of what they're ingesting (vitamins/collagen/protein powder/herbs) followed by a swipe up for a beauty product (lip gloss/moisturizer/face mask/facial tool) somewhere in-between their workout routine, daily chats, activism, #ads and the like. 
The narrative is no longer, "I use this makeup product for my glow" but it's "I drink celery juice, take probiotics, add collagen to my smoothies, use vitamin c serum and hyaluronic acid, wear clean makeup, meditate and do all of the things."
Beauty and wellness are woven into the same culture cloth. So much so that the world's largest beauty retailers are no longer only filled with makeup and skin care.
Walk into any Sephora and you'll find an entire area of the store dedicated to ingestibles and supplements. They carry Moon Juice dusts, goop wellness products, Hum vitamins, Beauty Chef's collagen, 8Greens supplements, Vital Proteins protein, WellCo sleeping teas and so much more.