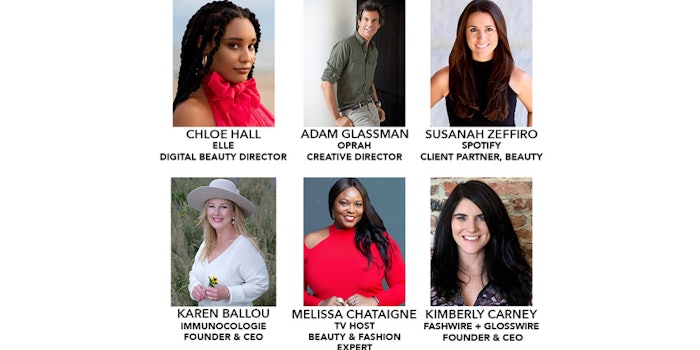 GlossWire has announced the 10 finalists for its inaugural pitch competition, GlossPitch, to be held March 18th, 2021.
The GlossWire beauty brands were invited to submit an application to pitch in front of some of the most influential leaders in the beauty and media industries, while competing for the chance to claim a grand prize of $10,000 to assist in supporting their businesses.
Further reading: Beauty 2021
10 finalists:
Base Butter
Cygalle Beauty
fanlovebeauty
Jumby
Labruna Skincare
Lamik
Shespoke
The Sexiest Beauty
Vertly
Wonder Curl
Judges include:
Chloe Hall, Digital beauty director for Elle
Adam Glassman, creative director for Oprah
Susanah Zeffiro, client partner, Beauty for Spotify
Melissa Chataigne, TV ohst and beauty and fashion expert
Karen Ballou, Immunocologie founder and CEO
Lucas Brand Equity senior partner
Kimberly Carney, Fashwire founder and CEO
GlossWire received applicants worldwide, including Canada, France, Spain, United Kingdom and the United States.
Viewers will be given the opportunity to vote for their pick, along with the panel of esteemed judges who will be making the final decision. The three winner grants include a third place prize of $1,500, a second place prize of $2,500 and a first place prize of $10,000.
"We are excited to make this first-of-its-kind competition possible to support our beauty brands and bring together the skills, connections and platforms of industry experts who have a deep understanding of their businesses," said Fashwire founder and CEO Kimberly Carney. "It is essential that we fulfill GlossWire's philanthropic mission by helping our brand partners while continuing to embrace our entrepreneurial spirit."
Chloe Hall, Elle digital beauty director, said: "It is vital for the beauty industry to foster and support the next generation of beauty brands and give them both the financial and mentoring support that they need. The GlossPitch competition allows us to do both and puts brands on a global stage, rewarding them for their innovative and creative skills. I am so excited to review the works of these talented brands. I am particularly delighted at the diversity of these female-founded entrants and looking forward to meeting the top 10 finalists at the pitch event on March 18th."
"It is an honor to participate as a judge for GlossWire's inaugural beauty pitch competition focusing on female founders during Women's History Month," said Adam Glassman, Oprah creative director. "The stories behind the brands that we're looking at display passion, conviction and seek to change the beauty industry.
Susanah Zeffiro, client partner, Beauty for Spotify, said: "The GlossPitch competition focuses on what I feel passionately about, elevating new brands in the beauty space who have a distinct point of view and passion for storytelling. Having worked with some incredible beauty brands, I see the passion and creativity here amongst these female-founded companies. It's an honor to sit amongst my fellow peers and support the next generation of talent."