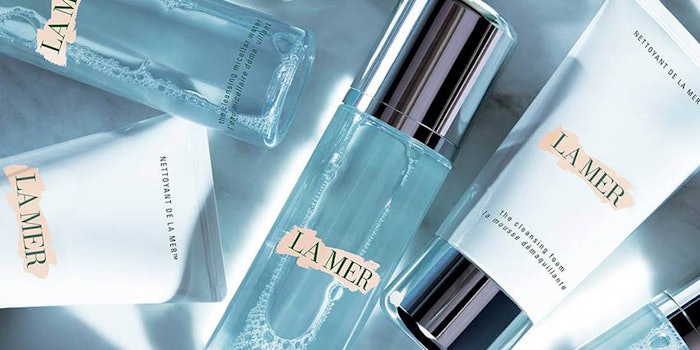 @LaMer/ via Facebook.com
The Estée Lauder Companies (Estée Lauder) has announced its financial results for its first quarter, ending Sept. 30, 2018. Net sales increased 8% over the prior-year quarter to $3.52 billion.
Skin Is In
Skin care saw a 17% increase on a reported basis, with sales of $1,486 million. Sales grew across most geographies, brands and channels, particularly Asia, travel retail and online. La Mere and Estée Lauder, were cited as growth drivers.
Kiss the Makeup
Makeup sales, at $1,406 million, increased 2% on a reported basis. Growth was driven by strong increases from MAC, Estée Lauder, and Tom Ford Beauty, which offset lower net sales for Clinique and Smashbox. Within the brands, MAC saw several launches—including shade extensions of its Studio Fix Foundation— Estée Lauder, once again garnered strength from its Double Wear  line of product, and Tom Ford Beauty was driven by lip color and eyeshadow.
Related: 5 Things That Made 2018 a Financial Success for Estée Lauder
Smells Belles
Fragrance sales decreased 1% to $472 million. Growth from Tom Ford Beauty, Le Labo, By Kilian and Jo Malone London offset lower sales of "certain designer fragrances." The net sales increase of Jo Malone London was driven by the launch of Honeysuckle & Davana and expanded targeted customer reach, such as the brand's opening on China's Tmall.
Hair Today
Hair care sales increased 5% to $143 million, primarily reflecting higher net sales from Aveda due to the brand's Invanti Advanced line of products and the launch of Cherry Almond Softening shampoo and conditioner. Higher results from Aveda were "more than offset" by investments in advertising Bumble and bumble's Thickening franchise.
Around the World
Net sales declined 7% in the Americas (to $1,236 million), but grew double-digits in online and high-single digit in specialty-multi in North America; additionally, the company's department store business "improved sequentially."
In Europe, the Middle East and Africa, which saw a 14% increase in sales to $1,433 million, most emerging markets grew in the region—half delivered double-digit growth. In travel retail, strong double-digit sales growth was broad-based across brands, led by Estee Lauder, La Mer, MAC and Tom Ford. Lower net sales in the U.K. were partially attributed to reduced consumer confidence in the face of Brexit.
Asia/Pacific sales, reported at $855 million, grew 24%. Growth was broad-based, and most markets grew double-digits. China and Japan accelerated, and Hong Kong continued to show strong growth.
Fabrizio Freda, president and CEO, commented: "Our fiscal year is off to an excellent start. Our sales and earnings per share grew double digits, reflecting multiple engines of global growth throughout our product categories, brands, regions and channels. Our creative innovations and high-quality products resonated strongly. We attracted new consumers and increased engagement with existing ones through successful digital advertising and influencer activities.
"Our top growth drivers were skin care globally, the Asia/Pacific region and emerging markets, the global online and travel retail channels, and most brands, including Estée Lauder, MAC, La Mer, Tom Ford and Origins. In addition, in the United States, excluding Bon-Ton closures, our performance among department stores turned positive."
"We are operating in a challenging macro environment with many economic and geopolitical risks, but we are confident in the strength of our business strategy, the quality of our products, the desirability of our brands and our ability to execute with discipline and agility. With our strong first-quarter results and exciting upcoming launches and programs, we are raising our EPS guidance for the year."