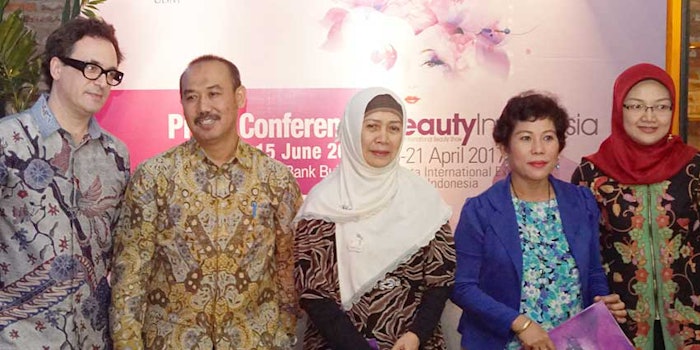 Several executives and representatives of the Indonesian cosmetics industry, including Afrida Suston Niar, Dewi Rijah Sari, Lukmanul Hakim, Bintang Retna Herawati and Ivan Ferrari, recently spoke at the press launch of Beauty Indonesia, a new international trade exhibition focusing on the cosmetics industry set for April 19–21, 2017, in Jakarta.
Herawati, chairman of Indonesia's import-export profession association, said the cosmetics industry is forecast to become one of the 10 to play a major role in the development of the economy. Meanwhile, Ferrari, general manager of UBM Indonesia, noted that the country's cosmetics industry is broad and dynamic, creating strong competition and future opportunities.
"Indonesia offers a huge opportunity in the cosmetics industry given its vast domestic market, the availability of qualified human resources as well as the immense potential of local raw herbal ingredients," said Niar. "Indonesia is undeniably unique."
However, halal certifications will complicate matters. Hakim, director of research for the Institute for Food, Drugs and Cosmetics, explained that it will gradually become compulsory in the market for all cosmetics products to be halal certified.
Sari, L'Oreal's scientific & regulatory affair director, added, "It is difficult to conduct halal cosmetic certifications because 90 percent of cosmetic raw materials are imported, for a total of more than 76,000 items. The number of products registered until June 2016 is 109,000, five times larger than drugs."