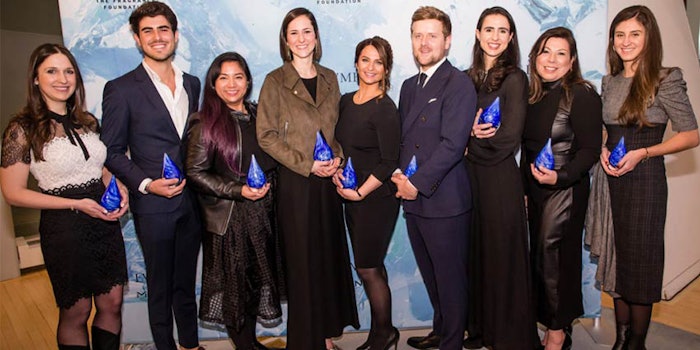 The Fragrance Foundation hosted a celebration in honor of its sixth class of Notables, as well as announced its preparations for Fragrance Day 2020, which will be taking place March 21, 2020.
As each newly annointed notable received their blown glass teardrop award, they shared a few insights into their journey:
Pol Bardají, manager, sales and business development for Cosmo International Fragrances was introduced by his nominator, Dulce Almario, as a rare talent and ray of sunshine who always gives "100 plus plus plus percent."
Antoni Soszyński, Coty's global marketing manager for Marc Jacobs, was celebrated for his "rare combination of business acumen, creativity and human compassion that is magical in this industry."
Elizabeth Cavallacci, account manager at Firmenich, shared that her passion for everything she does, particularly in fragrance, sometimes spills out in unexpected ways, like teaching herself fluency in Greek.
Alice Inchauspé, digital account manager sales and business development of Givaudan, received recognition from Asha Talwar Coco, who described her as someone whose curiosity and competence Coco wants to keep beside her through her entire career.
Abigail Spratt, SCI researcher at IFF, gave good advice to test the limits of expectations—to "break out of a predetermined box that was developed before you."
Valerie Anderson, senior marketing manager at Mane, was described by her nominator Jason Boland as a radiant light of positivity who can charm conference rooms of people with her presentations—even after a cross country redeye.
Dora Gaffaney, senior director of global marketing/brand development at Parlux, who finagled the notoriously difficult celebrity signoff on a fragrance in under five minutes, at the celebrity's own birthday party, was lauded for her charisma and genuine kindness by Lori Singer.
Melissa Pacansky, fragrance evaluation manager, was described by Bansamou as a zen and quiet strength—but shared that she has the drive of a tiger (and a passion for pysanky).
Patricia Montelongo, executive director of education Jo Malone London, North America, summed up the evening as she described her journey with fragrance and love and family through Jo Malone Amber and Lavender, the scent she wore on a blind date that led to a marriage and to the birth of her son.
Previously: The Fragrance Foundation Introduces 4 Categories for 2020 Awards 
Fragrance Day
Fragrance Day 2020 is set to feature an exhibition of enchanting, fragrance-focused works by world-renown artist and designer Rebecca Moses.
Like so many great artworks, love connections and mesmerizing fragrances, the story behind Moses' collaboration with The Fragrance Foundation began in Italy, said Linda Levy, president of The Fragrance Foundation.
Many years ago, Moses had created paintings inspired by the captivating scents of Capri and when Levy saw them on a visit to Moses' studio in 2017, the idea for what would become the centerpiece of this year's International Fragrance Day celebration was born.
Levy commissioned Moses to create seven artworks, each of which celebrate a different scent category—floral, fresh, citrus, fruity, woody, sweet and spicy—in the form of a colorful, exuberant woman adorned in aromatic ingredients.
Moses' works will be at the heart of International Fragrance Day 2020 with whimsical videos in which the illustrations come to life—dancing, blowing bubbles of chewing gum, donning sunglasses—accompanying the awareness initiative on social media and beyond.
Madison Avenue will be strewn with banners featuring Moses' artwork, and, from March 19 to March 28, participating brands and retailers along New York's legendary shopping street will offer an array of sensory experiences to inspire consumers to discover the artistry and passion of fragrance.
The entire extravaganza will be touted on social media by brands, fragrance houses, influencers and supporters. And, as Levy concluded her speech, she invited the audience to spend the rest of the evening immersing themselves in the magic of Moses' artwork.
"We want to talk to consumers about what ingredients mean, and this is a wonderful way to communicate in an entertaining way, but also in a very intelligent way, how fragrances are made. We believe that fragrance is an invisible art and this will allow us to go somewhere we've never been before."