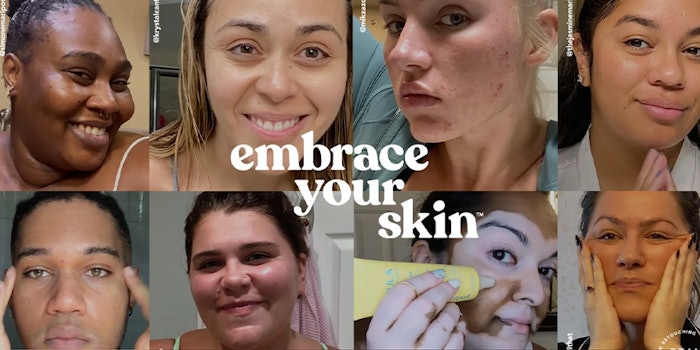 Tula Skincare announced the commencement of its brand imitative, #EmbraceYourSkin, centered on confidence among its consumers. 
Related: Pacific Shaving Company Receives Amazon's Sustainability Certification
Tula's initiative includes:
No skin retouching on Tula's brand marketing photography 
Creating a "Real Glow Badge" that will certify skin in a photo has not been retouched  
Launching a new opt-in text message program to offer customers weekly confidence boosting affirmations
Activating Tula's influencer community to create a raw, authentic, and open conversation about confidence and support.
Creating nearly 1,000 sweatshirts with affirmations printed on them to flood social feeds with positivity.
Removing Tula.com and retailer imagery that does not align with the Company's commitment to #EmbraceYour Skin.
Communicating these changes through a special brand Promise: to reimagine imagery, language, social norms, and skin care based on what is most important to the Tula community. 
This comes after a confidence survey based on more than 10,000 responses from customers. The results came back that 70% of Tula customers feel beauty ads degrade their self confidence. As well more than 60% of customers would describe themselves as not confident or that "bad" skin days make them less confident. 
"Our confidence survey results are alarming. 70% of customers say that beauty ads degrade their self-confidence–a key component that Tula as a brand is on a mission to change," said Savannah Sachs, CEO of Tula Skincare. "Today, with our #EmbraceYourSkin initiative, we are taking a stand and igniting our promise to inspire and empower everyone to embrace their skin.  We are also committing to no retouching on Tula's brand marketing photos while shifting the conversation on beauty to be more positive. We've been told for too long that we're not enough, and today, Tula is standing up to make a change, to tell you that you are enough and to #EmbraceYourSkin, no matter what you are enough."