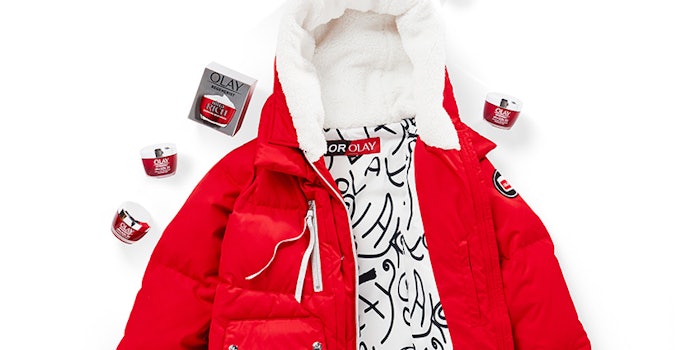 Olay has announced its partnership with Orolay to create a limited edition coat, available November 30, 2020. 
Related: Olay Skin Promise: Zero Skin Retouching in Ads
The coat is inspired by the red jar that houses Olay's moisturizers, which are similarly designed to defend consumers from winter weather. It will be available on Cyber Monday (November 30, 2020), exclusively on Olay.com, as a free gift with any $150 purchase.
The collaboration is a thickened down coat with a deep red outer layer of water-resistant and windproof fabric, a faux sherpa lined hood, silver detailing, and an Olay Red Jar arm patch along with a black and white graffiti print inner lining.
Lindsey Morahan, Olay communications director said, "We are so excited to work with Orolay on this first-of-its-kind collaboration to help women face this winter with the ultimate protection. We partnered with the brand to find a novel way to highlight Olay's most iconic and best-selling red jar alongside Orolay's iconic winter coat. We believe the two brands align perfectly, each maintaining luxury and quality at a fraction of the cost of competitors."
Morahan added, "We designed this partnership to help women face the winter in two ways. On the one hand it's incredibly important to up your levels of hydration within skincare during colder months to protect your skin barrier from dryness and microscopic tears. On the other hand it's important to protect your skin from the elements and add that extra layer of warmth from the drop in temperature."
Kevin Chiu, founder of Orolay said, "Orolay is excited to embark on a collaboration with iconic American beauty brand Olay, which is our first-ever brand partnership. Olay approached us with this innovative idea and we thought it was a perfect marriage highlighting both brands' luxury quality, value pricing, and winter protection capabilities. With this partnership we offer women everywhere an opportunity to experience something exclusive yet attainable."