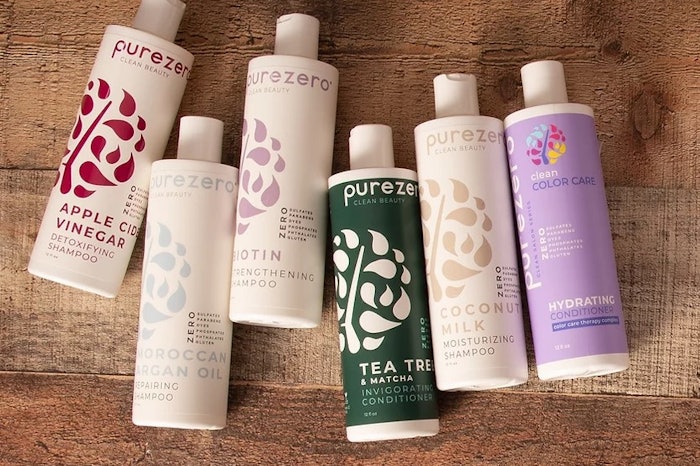 Purezero Clean Beauty has reportedly become the first mass-market hair care brand to earn the Carbonfree Product Certification. 
Previously: Refillable, Carbon-neutral Blueland Raises $20M
The certification is a globally recognized carbon-neutral designation from Carbonfund.org Foundation.
To earn the certification, Purezero identified viable ways to decrease carbon impact, including a reduction in plastic usage. The partnership with Carbonfund.org allows Purezero to continue those efforts and offset remaining emissions in its footprint. 
The Carbonfree seal will be featured on every Purezero product label in brick-and-mortar retailers nationwide, including:
Kroger
Wegmans
Price Chopper
Fred Meyer
King Sooper's
Smith's
Fry's
Ralphs
QFC
Roundy's
Dillons
Coburn's
Market of Choice 
Purezero was also recently inducted into Amazon's Climate Pledge Friendly Program, which highlights brands that are committed to net-zero carbon across the business.
Kuhlman, co-founder, Purezero Clean Beauty, said, "The production of personal care and beauty products causes significant carbon emissions, which play a big role in the climate crisis. It's time to do better by the planet, and we're leading the way. Consumers have had to choose between professional performance, accessible pricing and clean ingredients—Purezero makes it possible for them to have it all. Now we've innovated to democratize clean, sustainable beauty, and this is just the beginning of our hair care revolution." 
Eric Carlson, president of Carbonfund.org Foundation, said, "The beauty industry is in desperate need of a sustainable makeover, and working with Purezero on this long-term partnership brings hope for a brighter, more eco-friendly future. We're excited to see a mass hair care brand like Purezero lead the way and set an example for others to follow suit."