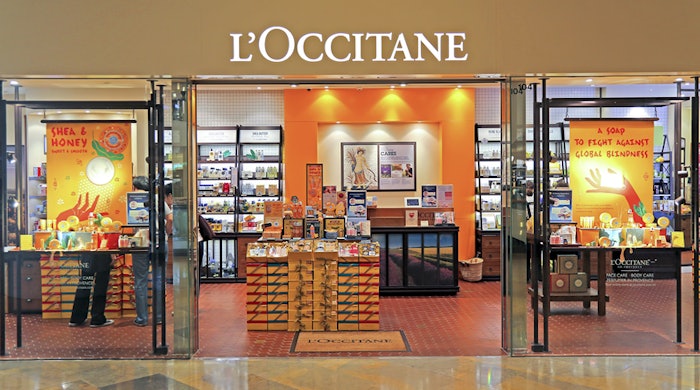 L'Occitane International S.A. kicked off fiscal year 2023 with €416 million in sales for the three months ended June 30, 2022, an increase of 23.4% at reported rates and 15.8% at constant rates compared to the first quarter of last year.
First-quarter sales at Sol de Janeiro, which the company recently acquired, came in at €40.8 million—up 60% over the same period last year. L'Occitane credits the growth to Sol de Janeiro's global launch of its Beija Flor range and premium perfume mists as well as the brand's further expansion in the United States.
The company's flagship brand, L'Occitane  en Provence, posted first-quarter sales of €290.5 million, an uptick of 5.9% at constant exchange rates. The increase was driven by the rebound of retail, travel retail, web partners and distribution businesses, according to L'Occitane.
Elemis saw its sales increase 9.8% at constant rates in the first quarter, thanks to international rollouts, a strong cruise ship business in the United States and robust online sales.
L'Occitane recorded sales growth in all of its geographic regions, with the Americas growing the fastest. Sales in the Americas rose 55.5% at constant rates in the first quarter of FY 2023. The company attributes the increase to the acquisition of Sol de Janeiro and the continued reopening of markets. All markets in the region posted double-digit growth and all brands performed well there, according to the company.
Sales in Europe, the Middle East and Africa rebounded in the quarter, growing 10.3% compared to the same period last year. Travel retail and distribution sales in the region as well as a boost in retail sales in France and Germany contributed to the growth, the company said.
Despite various headwinds, the Asia-Pacific region—L'Occitane's largest region—grew 1.2% at constant rates. Most markets in that region posted double-digit growth, led by Hong Kong, Australia and Malaysia.
China, however, saw offline and online sales decrease during the first quarter. L'Occitane blamed store closures due to COVID-19 outbreaks and the closure of its Shanghai warehouse, causing disruption to store replenishments nationwide. Sales did bounce back to double digits in June 2022 as soon as pandemic restrictions eased, according to the company.
Key sales channels also helped L'Occitane grow during the first quarter of fiscal year 2023. Within wholesale, travel retail was particularly strong as domestic and international travel resumed.
Retail saw an increase in footfall and tourist sales even though L'Occitane closed 115 stores in the first quarter. About 110 of those closings took place in Russia as part of the company's divestiture from that market.
Online channels experienced a slight sales decrease of 2.5% while remaining at a high level of net sales at 29.5% in the period.
"We are mindful of the increasingly volatile macroeconomic environment, including the impacts of inflation and the ongoing pandemic," said vice chairman and CEO André Hoffmann. "However, I have full faith that our ongoing mitigation strategies and the proven resilience of our brands and teams will see us through these challenges."