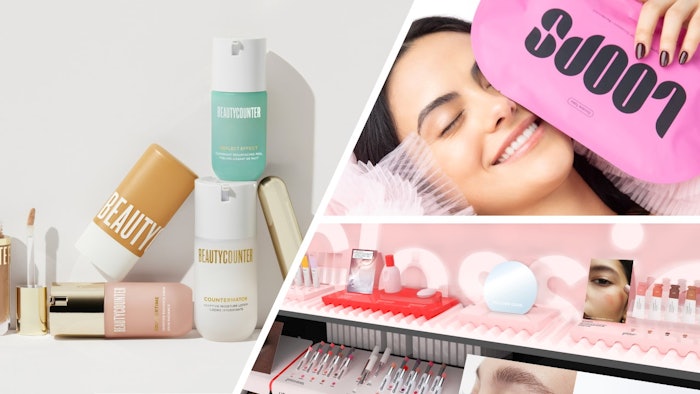 With so many beauty brands on the move in 2023, stable scale-ups become critical. And, when it comes to managing growth responsibly, brands need help.
In February 2023, Loops debuted four of its hydrogel masks at 1,500 Target stores and the retailer's e-commerce site, representing a significant scale up of retail for the brand, which previously expanded to Ulta Beauty and Nordstrom.
The expansion was logical because, as GWI notes, "Gen Z, especially those younger than 20 years old (many of whom are still in school), are ... the second most likely generation after baby boomers to say they prefer shopping in-store versus online."
Loops hasn't been alone in its scaling up of retail. In the last week, DTC stalwarts Glossier and Beautycounter expanded into Sephora and Ulta, respectively, while Singapore's Coco & Eve struck its first retail partnership via 452 U.S. Ulta Beauty stores.
There's context for all of this physical retail expansion. In 2022, prestige beauty brick-and-mortar retail share grew year-over-year, while online sales share increased in the mass market. Per NielsenIQ, online sales account for 38% of the total U.S. beauty market, up 2% from 2021. 
While Kline notes that DTC (direct to consumer) beauty is far from over, there are increasing challenges both for those that remain pure-play and those that pursue wholesale/retail partnerships.
"When brands branch from DTC into retail, it can be both exciting and scary," says Tom Flatley, global brand manager, BPC sales, Univar Solutions. "This type of move opens up an entirely new customer base, especially if you're breaking into one of the larger retail chains. This can cause a rapid acceleration in purchases which a brand may not be ready for, leading to possible stock out situations."
He continues, "This would limit growth potential from your newly discovered customer base, while hurting relationships with the retailer due to the empty shelf space, as well as your existing customer base who has come to expect product availability. Knowing how to navigate fast expansion within your supply chain while ensuring your contract manufacturers have the capacity to support the growth are vital when entering new markets."
Newer brands breaking onto the scene have an entirely different set of concerns.
"New brands require some of the same assistance as their already established colleagues, but in most cases are looking for more comprehensive support," Flatley explains. "Startups typically are totally new to the world of beauty and personal care and the field can be quite intimidating. In order to break out in our industry, you need more than a novel idea–you need a great story or new technology–something innovative and exciting!"
He concludes, "While the passion for new brands can be welcoming, the competition is fierce and details need to be considered at every step of the way to ensure success."     
A range of services are now coming on line to help brands manage various stages of growth, from startup to retail expansion and beyond.
"We're [the Univar Solutions' brand concierge team] able to support brands from concept through to commercialization," says Flatley. "In some cases, when working with indies in particular, that may mean utilizing one of our global Solutions Centers to help build a stable and tested formulation ready for tech transfer to the contract manufacturer of their choosing. It may also mean helping a viral indie brand that just took off find their next offering through white space analysis." 
He continues, "It could also mean helping an established brand who's looking to take more control of their supply chain create a multi-location stocking strategy to have their key ingredients available when they need them, in the quantities needed in order to keep the store shelves stocked."
Flatley acknowledges that all brands have their unique needs, circumstances and journeys. The key, he concludes, is "to be fluid and offer each brand the specific support that they are looking for while being able to grow with the brand as needed."
Given the pace of new brands launching and DTC brands migrating into retail partnerships, innovation partners will be kept busy through this year and beyond.