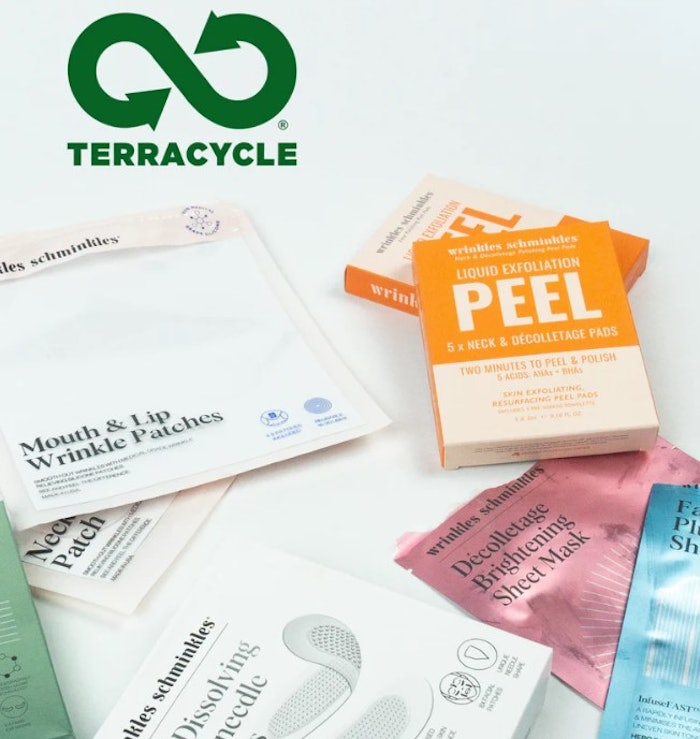 Wrinkles Schminkles has partnered with TerraCycle to launch the silicone patch recycling program.
Customers can recycle their skin care in three steps fully funded by the brand.
According to Wrinkles Schminkles' website, the patches are being recycled into items such as plastic planter pots, industrial drainage piping and plastic lumber.
Wrinkles Schminkles founder Gabrielle Requena said, "Since going viral on TikTok and significantly growing, at the very top of our brand's to-do list has been finding a way to recycle a historically classed 'non-recyclable' category recyclable. Even my manufacturer insisted it wasn't possible. I'm a big believer that aesthetics and ethics can go hand in hand. By pioneering the first silicone patch recycling program through TerraCycle, we are proud to offer our customers this simple and free option to ensure we keep our products and packaging out of landfills and contribute to our planet and people, like any future-focused brand."
TerraCycle founder and CEO Tom Szaky, said, "For brands that are looking to meet the rising demand from consumers for sustainable practices, it is important to think consciously about end-of-life solutions for their products and packaging. With the launch of this innovative recycling program, Wrinkles Schminkles is demonstrating how brands can sustain success on social media without putting engagement ahead of the environment."