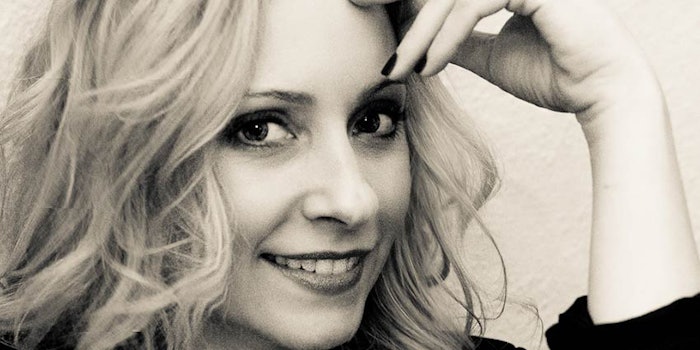 It might be all smiles and fun onscreen, but success on QVC is tough. If you want your brand to succeed, you need a clean, simple, distinctive concept that can be articulated in just a few words.
Once you have that—and, assuming you even get on air—you have to achieve a steep dollars-per-minute sales target. And, even if you meet those criteria, you could have all of your efforts scuttled by bad reviews, which take very little time to appear online.
These were the challenges facing Kara Harshbarger, co-founder of HandMD, a skin care brand that encourages consumers to devote the same anti-aging attention to their hands that they do to their faces.
Startup Lessons: Just Google It
Harshbarger originally moved to Los Angeles to be a filmmaker, and eventually sold a feature to HBO. She told Global Cosmetic Industry that she thought about the film as a product, which taught her to focus on the marketplace. However, she was disappointed by how many cooks were in the kitchen and how little control a filmmaker had over the final creative product.
Because hands are virtually never protected from the elements, they often looked older than women's well-pampered faces.
This humble DIY project eventually became Hemming My Way easy-snap hemming aids, which sold 2 million boxes in two years at big box stores. Harshbarger successfully presented the brand on QVC, creating high sales and quick cash flow. However, she soon realized she wanted to be in a business with better profit margin.
Be Different
Harshbarger noted that the beauty market is so saturated that it makes little sense to launch a brand that lacks a strong point of difference. As a result, she started her ideation process by considering the gaps in current beauty offerings.
Harshbarger also realized that consumers wanted a product that made their hands feel better even as they waited for the anti-aging effects to take hold (after six to eight weeks of consistent use).
Harshbarger merged these disparate insights and perfected her concept based on the same problem/solution model that had worked so well with Hemming My Way. 
Proving Value
It's difficult for consumers to get enthusiastic about a $50 hand cream, Harshbarger explained, so it was critical for HandMD to clearly position itself as anti-aging and to communicate its value and distinction to the public.
Because consumers demand results, she chose not to build the products around a fad ingredient, like the latest antioxidant berry, and instead focused on quality trusted materials such as niacinamide. Finally, Harshbarger settled on a distinctive duo format—a serum, followed by a moisturizer—that could be layered together to work synergistically.
Because consumers demand results, she chose not to build the products around a fad ingredient.
Harshbarger then approached dermatologist Dr. Alex Khadavi (co-founder of HandMD) with the concept and worked with a chemist to develop the products and conduct clinical testing. The result was the HandMD hero, the Restorative Duo (Reparative Serum + Anti-Oxidant Rich Moisturizer), which was later joined by the Daily Hand Renewal SPF 30+.
Harshbarger then selected a brand name—HandMD—that easily and efficiently communicated what the products did and established its expert-backed positioning. 
Sales Are Great, but Beware the Reviews
Knowing that QVC was the ideal channel for the brand's consumers, Harshbarger pitched the network on HandMD. To mitigate resistance, she showed the QVC executives another brand of hand cream that had appeared on the network and pointed out that it contained no anti-aging properties.
This strategy got her a "yes" and a primetime slot on Friday Night Beauty between QVC leaders philosophy and IT Cosmetics. Harshbarger again made her pitch before the cameras, and HandMD sold out on its QVC debut.
Rapid feedback, while intimidating, is helpful for quickly adjusting products and marketing.
The consumer reviews soon poured in, praising the product but complaining of breaking bottles. Harshbarger recalled that, when developing specifically sized packaging, she was compelled to use a mold from China.
She tested early samples and ran a pilot production run, all of which went well. However, consumers had a different experience and spoke out.
Harshbarger explained that rapid feedback, while intimidating, is helpful for quickly adjusting products and marketing. Working with a plastics engineer, she determined the issue that was hampering her products and managed to preserve HandMD's QVC star rating.
With the packaging issue resolved, HandMD thrived. That success led to a key investment that drove further growth for the brand.
Staying Authentic Through Growth
Choosing a financial partner was a tricky process, said Harshbarger, who eventually selected Synergy CHC to acquire the HandMD brand. She explained that, critically, Synergy allowed her to continue her vision for the brand, while providing support and funding to expand the company's product range.
According to an official announcement released last year at the time of the acquisition, Synergy paid Hand MD Corp $1,500,000 in Synergy CHC stock, at $0.70 per share, and agreed to make minimum yearly royalty payments in the second year of $250,000 and minimum yearly royalty payments of $500,000 in the third year.
Trying to take on a major multinational head-on is a sure way to get underwater, fast.
Next year, HandMD will introduce six new SKUs, which will retain Harshbarger's vision, graphic design, packaging concepts and more.
Despite the expansion of the brand, Harshbarger said that she still looks into every element of HandMD, including liaising with suppliers, working with chemists and manufacturers, ensuring that production stays on track and shipments remain on time, and communicating with customers.
Staying connected with the customer, which has become more difficult to do as the brand has expanded, allows Harshbarger to keep an eye on how the brand is performing, though she conceded growth will eventually force her to delegate some of her diverse duties.
What's Next?
Harshbarger is currently looking for another beauty need that isn't being addressed by the current market. She explained that whatever concept she eventually focuses on must be sufficiently different that another brand with deeper pockets won't simply step in and outcompete her.
Trying to take on a major multinational head-on is a sure way to get underwater, fast, said Harshbarger. Instead, she said, small indie brands should take advantage of their small size to launch quickly and leverage their "cool" factor.
Whatever she ends up launching next, Harshbarger concluded, it will have to be "different enough."