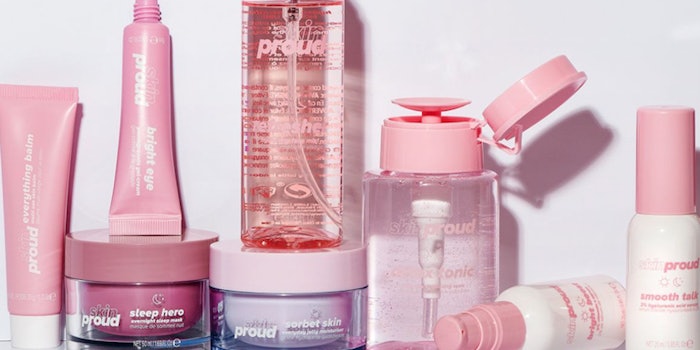 U.K.-based Skin Proud is launching at Walmart and Walmart.com.
Previously: Gen Z and Millennial Beauty Decoded in Kyra Media Report
The Gen Z-focused skin care brand features products that are 100% vegan and PETA-approved cruelty-free.
The formulas are designed to be an introduction into a skin care regimen (targeted for 18-25 years old), as well as serving as an add-on for your current regimen (targeted for 25-35 years old).
Products in the collection include:
Sorbet Skin: everyday jelly moisturizer

Bright Boost: 2% vitamin C serum

Smooth Talk: 2% hyaluronic acid gel serum

Refresher: hydrating pineapple mist

Velvet Cloud Cleanser: whipped mousse cleansing foam

Detox Tonic: daily exfoliating tonic

Bright Eye: pomegranate gel-cream


Frozen Over: gel-to-ice hydrator

Recharge Serum: overnight 0.5% retinol serum

Unplug: pore detox clay mask

Sleep Hero: overnight sleep mask