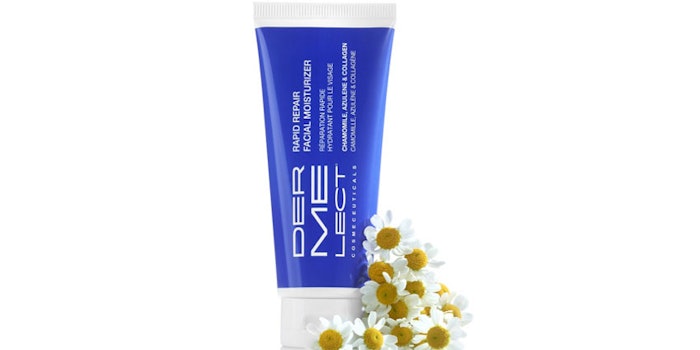 Dermelect Cosmeceuticals has created a moisturizer to help soothe and prevent dry, sensitive winter skin. Rapid Repair Facial Moisturizer is a cream moisturizer that targets the symptoms that dry, cold winter weather often bestows upon skin.
This moisturizer can also double as a nighttime hydrator and improves the look of distressed and dehydrated skin.
Rapid Repair Facial Moisturizer contains:
Chamomile and azulene: both help to calm irritation and inflammation
Collagen: to increase the skin's elasticity and firmness
Grape seed oil: to fight environmental stressors
Avocado oil: to plump and hydrate the skin
"New York winters are always tough on my sensitive skin. With the Rapid Repair, I let the moisture soak in and I'm ready to face the elements," said Jodi Lavian, co-founder of Dermelect Cosmeceuticals. "I love that it's rich and comforting yet leaves behind no greasy residue. The formula gives a natural glow to my skin, is break out resistant, and works wonders even under makeup."
The retail price is $38.00 and will be available starting January 2017.