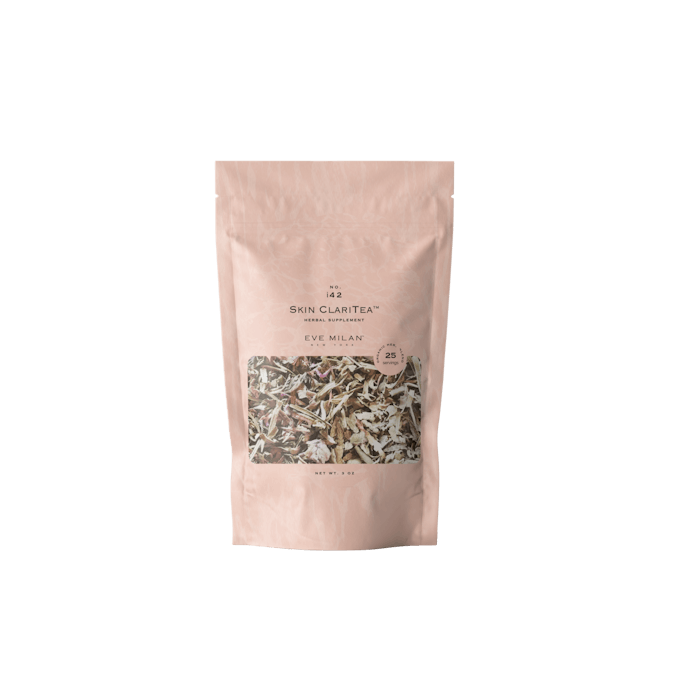 The latest skin care launches are focused on acne control, from prevention to treatment and restoration. Headlines include an immune-boosting tea from Eve Milan New York, a three-step skin care routine by Alchemee targeted at hyperpigmentation and an exfoliating toner from Algenist.
Related: Trinny London Debuts Skin Care Line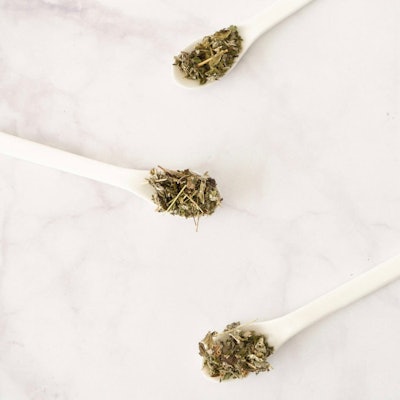 Eve Milan New York
Eve Milan New York's Skin ClariTea is an immune system booster that reduces the appearance of breakouts in all skin types by reportedly "detoxifying" the liver and blood, improving gut health and strengthening the lymphatic system. The tea is vegan and caffeine-free; formulated with red raspberry leaf, blue vervain, spearmint leaf and red clover.
It is recommended to brew one-to-two teaspoons of the tea in a strainer with 8 oz of boiled water and steep for five-to-seven minutes. Users are advised to drink two-to-three cups daily for best results.
Skin ClariTea costs $8; available at evemilanny.com.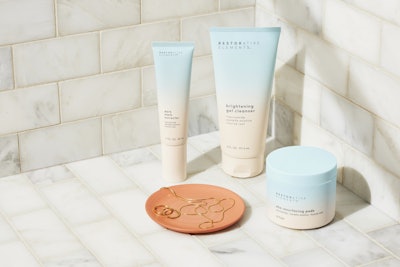 Alchemee
Alchemee has announced the Restorative Routine—a three-step skin care routine using products from Alchemee's Restorative Elements focused on skin hyperpigmentation. It is intended for twice-daily use to fade visible signs of skin hyperpigmentation.
The three-step routine is intended for all skin types and consists of products with niacinamide, licorice root and Centella asiatica. It is free of parabens, phthalates, oil and bleaching agents including hydroquinone.
Start with the Brightening Gel Cleanser, an antioxidant and vitamin-rich gel cleanser that nourishes skin to reduce the appearance of hyperpigmentation.
Next, the AHA Resurfacing Pads, featuring chemical and physical exfoliants formulated with 6% glycolic acid. The pads should be used all over the face at night and as a spot treatment for pigmented areas in the morning.
Finally, the Dark Mark Corrector is a lightweight corrective moisturizer to fade dark marks and moisturize skin. It should be followed by an SPF during the morning.
In clinical trials cited by Alchemee, 92% of respondents using the Restorative Routine saw skin texture improvement, 90% said their post-acne dark marks had reduced and 92% claimed their skin looked more radiant after eight weeks of continued use.
Shannon Pappas, general manager of Alchemee, said, "At Alchemee, we are committed to helping people build confidence for life by providing solutions to their skin concerns. From Proactiv, we know the struggles that people with acne deal with, even after their acne has cleared. The dark spots left behind is what sparked the creation of Restorative Elements and with the help of our top experts, we created a line of products that expands beyond post-inflammatory hyperpigmentation and helps visibly tackle the appearance of many types of hyperpigmentation while still being safe and gentle enough for twice-daily use."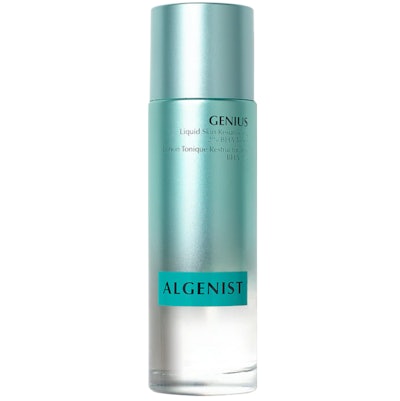 Algenist
Algenist launched the Genius Liquid Skin Resurfacing 2% BHA Toner, designed to treat adult acne by gently exfoliating skin to smooth signs of post-breakout blemishes and marks. The product is formulated with the brand's patented Alguronic Acid, along with vegan collagen, azelaic acid and 2% salicylic acid.
The resurfacer intends to support natural cell turnover and help keep skin clear of blemishes while preventing new ones from forming. It is safe for all skin types, vegan and gluten-free. It is also free of parabens, formaldehyde, formaldehyde-releasing agents, phthalates, mineral oil, retinyl palmitate, oxybenzone, coal tar, hydroquinone, sulfates SLS & SLES, triclocarban and triclosan.
In a clinical trial cited by Algenis, of the 25 test subjects, 100% of respondents indicated their skin felt purified after one use and smoother, healthier and restored after 10-days of use. In the study, 96% said the product gently exfoliated to visibly smooth and resurface skin texture after one use.
Algenist Genius Liquid Skin Resurfacing 2% BHA Toner costs $40; available at Sephora.